A microdermabrasion machine is like an extreme exfoliator. It loosens up and scrubs away dead skin cells, which exposes the healthy and fresh skin underneath. This makes your skin look brighter, younger, and more evenly toned. Microdermabrasion is a great treatment for acne, scars, wrinkles, and other skin issues, and it can help you feel more attractive and confident.
You can go to a dermatologist for microdermabrasion treatment, but one professional treatment costs almost as much as a home machine. Some results are noticeable right away, but it takes several treatments over weeks or months to see the full benefits. With a home machine, you'll save time and money while still improving your skin.
Microdermabrasion machines aren't cheap, so you shouldn't buy the first one you see. Like all health-related products, it's important to make a careful decision and to find the product that will work best for you. To help narrow down your search, here are five of the best microdermabrasion machines:
1. Kendal HB-MF03 – Editor's Choice Best Multipurpose Microdermabrasion Machine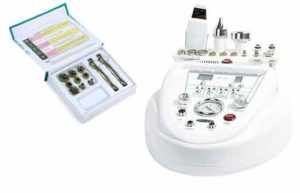 The Kendal HB-MF03, also known as the Kendal 3 in 1, is a home microdermabrasion machine that works similarly to professional devices. The machine comes with two stainless steel handles, 360 cotton filters, and two plastic oil filters. It uses a diamond tip, which helps with comfort and accuracy. Older microdermabrasion machines usually have crystal tips, but crystals can fall off and get in your eyes or mouth. With a diamond tip, you can bring the wand closer to your eyes and mouth without worrying.
You'll get nine diamond tips with the Kendal device: three large, three medium, and three small. Within each size, you'll get one fine, one medium, and one coarse tip. No matter your skin type, one of these nine tips should work well.
Like its name suggests, the Kendal 3 in 1 provides three different functions in one device: microdermabrasion, massage, and skin scrubbing. The massage function uses ultrasonic waves and mechanical vibrations to improve circulation and increase collagen production. This will smooth out wrinkles and uneven fat deposits. The skin scrubber function cleans out your pores, which prevents acne and other blemishes.
When you first set up the machine, all of the different outputs and pieces might be confusing. Unfortunately, the instructional guide that comes with the product doesn't actually provide much help. Once you figure out how the machine works, it's easy to use. However, there is a steep learning curve, and it's risky to use a microdermabrasion machine when you don't know exactly what you're doing. Accidentally using too much suction or leaving the wand on your skin for too long could cause redness and bruising.
Most reviewers speak very highly of the Kendal HB-MF03. It's one of the most popular home dermabrasion machines, and it's often used as the standard that other machines are compared to. The device is powerful and easy to use, and some results should be noticeable right away. If you want a durable, reliable device, the Kendal 3 in 1 machine is one of your best options.
Pros
Comes with nine diamond tips; good for all skin types
Also has massage and skin scrubber functions
Cons
Unhelpful instructions; may be confusing at first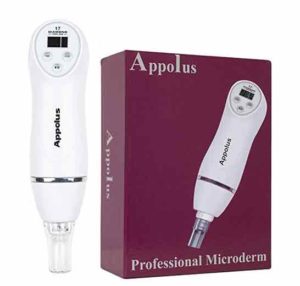 The Appolus is a small, handheld microdermabrasion machine. It's a wireless product with a USB charging port and a long-lasting battery, so it's easily portable. The device has an ergonomic design and is easy to use. Unlike some other machines, it doesn't have too many outputs or extra pieces, and it comes almost fully assembled. The package comes with extra filters, so you can change them after every use without worrying about buying more.
The Appolus has three suction levels and can reach a maximum strength of 17.5 inches/Hg. The lower levels work effectively, though, so you don't need to use the strongest level to see results. Start with the lowest level to make sure you don't damage your skin, and then work your way up. According to the manufacturer, you should only use the machine once or twice per week. The full results will take about three months to achieve, but you should notice a slight difference after your first treatment.
At a maximum strength of 17.5 inches/Hg, the Appolus is strong enough to achieve results, but it's not the strongest product on the market. If you have tough or thick skin, this machine might not get you the perfect results. Some reviewers also mention that the product comes with vague and confusing instructions. The device is more straightforward than most, but it still might be difficult to figure out at first.
Before using the machine, it's recommended to take a warm shower to open up your pores. Prepping your skin like this is especially helpful since this machine isn't the most powerful product available. The Appolus comes with five different tips, which each serve a different purpose. First, you should use the diamond head to exfoliate your skin and loosen the dead skin cells. Then, you can use the two suction heads. The small round head is good for the corners of your nose or other small areas around your face, and the large round head is good for open areas like your cheeks and forehead. You can use the oval head to remove fine lines and wrinkles, and you can use the blu-ray head to remove blackheads and shrink your pores.
The Appolus is much cheaper than most home microdermabrasion machines, but it's still a good product. It doesn't have as many elaborate features as other machines, but it does what it needs to do. If you want a basic, budget device that still works well, the Appolus is probably your best option.
Pros
Wireless; rechargeable battery
Comes with several tips for different purposes
Great budget option
Cons
Less powerful than other products
Confusing instructions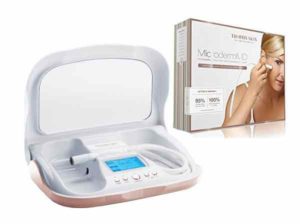 The Trophy Skin microdermabrasion machine is one of the best home devices available. It uses a diamond tip wand, but it also comes with a blackhead extraction tip and an infusion tip. The blackhead extraction tip cleans out your pores while the infusion tip helps your skincare products penetrate your skin. When you buy the Trophy Skin machine, you'll get a pack of 200 filters and a cleaning brush to wash the tip.
Despite all the bells and whistles, the Trophy Skin is one of the easiest microdermabrasion machines to use. It comes with a built-in magnifying mirror, which will help you with accuracy. The machine also has an LCD screen that displays instructions when you use the automatic mode. You can choose between eight different levels of suction, the strongest of which is 22 inches/Hg. This is much more powerful than most home machines, so you should start with the weakest suction and gradually increase the strength.
The Trophy Skin machine only includes on diamond tip, which is unusual. Other devices, like the Kendal, comes with several tips in different sizes and abrasion levels. If the Trophy Skin's only diamond tip doesn't work well for your skin type, you'll have to buy a new one separately. Since this machine is already expensive, having to buy extra parts would be frustrating. Some reviewers also say that the diamond tip is a little too large to use around the eyes. It can be hard to be completely accurate with a large diamond tip, so you might not be able to get perfect results near your eyes, nose, or mouth.
Overall, the Trophy Skin machine has excellent user reviews. Several reviewers say that their results are the same as when they had microdermabrasion done professionally by a dermatologist. The manufacturer offers a three-year warranty and a 30-day money back guarantee, so you'll be taken care of if you're not happy with your results. The Trophy Skin machine is highly recommended for people who are serious about microdermabrasion and are willing to spend a little more on high-quality features.
Pros
Powerful suction
Built-in magnifying mirror
Helpful auto-mode feature with instructions
Cons
Only comes with one diamond tip
Diamond tip may be too large to use around the eyes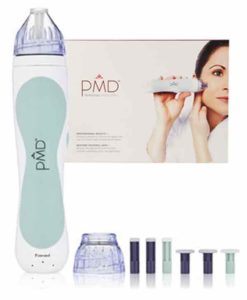 The PMD Personal Microderm System uses a customizable treatment method. It comes with several different discs for different skin types, from ultra-sensitive to moderate. When you open up the box, the device will already be almost fully assembled. It's very easy to set up, and it comes with a helpful manual and instructional DVD. The device is also one of the lightest microdermabrasion machines on the market. You can easily pack it up and bring it with you on a trip.
The PMD uses aluminum oxide crystals, which are hypoallergenic and antibacterial, to loosen up the dead skin. The crystals will fall off of the discs as you use the device, so you'll have to replace the discs after a few treatments. The machine does come with a reusable filter, though, so you don't have to worry about buying replacement filters.
Some microdermabrasion machines are safe to use multiple times per week. However, the PMD system can only be used once per week. If you use it too often, you'll experience bruising, redness, or skin sensitivity. Read the instruction manual and watch the DVD before using the device. The machine comes with a training disc, so you can learn how to use the treatment without accidentally harming your skin. The training disc still affects your skin, though, so you'll have to wait a week before using one of the real discs.
According to some reviewers, the PMD is not always strong enough to achieve the full desired results. It may be difficult to get enough suction to remove all of the dead skin on your face. Pulling the skin taut with your other hand while you use the device can help, though. Another common complaint is that it's difficult to work around the nose because of the size and shape of the tip.
The PMD Personal Microderm System is a great mid-range device. It doesn't have the intense power or the extra features of some of the other items on the list, but it's strong enough to make a big, noticeable impact on your skin. It's recommended for people who want a reliable, portable device without breaking the bank.
Pros
Handheld device; light and portable
Comes with different discs for different skin types
Easy to assemble and use
Cons
Not as strong as some other products
May be difficult to work around nose
5. Microderm GLO – Best Easiest Microdermabrasion Machine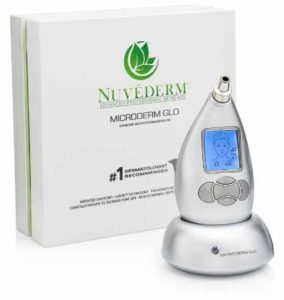 The Microderm GLO uses a dual-action therapy technique that removes dead skin while also increasing blood flow and boosting collagen and elastin production. It's a surprisingly small and lightweight device, but it has all the important features. The product comes with two diamond tips that have different levels of abrasion, 20 replacement filters, and a cleaning brush. You'll also get a carrying pouch, so you can pack up the machine and take it with you when you travel. The Microderm GLO is powered with a rechargeable battery that users say is long-lasting.
If you're new to using microdermabrasion machines and aren't sure what to do, the Microderm GLO's auto mode could be helpful. There's a screen on the machine that will show you which areas of your face to treat at which time, and a timer will count down and tell you when to change the treatment area. With the auto mode instructions, the entire treatment only takes about four minutes.
The machine has three suction strength settings, and the strongest setting is 22 inches/Hg. This setting is very powerful for a home machine, so you shouldn't use it right away. It's extremely easy to end up with bruises or irritation if you use the Microderm GLO improperly, so you'll have to read the instruction manual thoroughly and gradually work up to stronger suction. The machine is safe for regular use, and the manufacturer recommends using it two or three times per week. However, everyone's skin is different, and you shouldn't start using it that frequently as soon as you get it. Like with the suction strength, you need to gradually increase your frequency of use.
If you use the device multiple times every week, you'll have to replace the diamond tips after six months. You'll also have to buy replacement filters after a few months because the filter must be changed with every use. Although the Microderm GLO is less expensive than the Kendal and other machines that offer similar features, you should be prepared to spend extra on these replacement parts.
The Microderm GLO is one of the top home microdermabrasion machines on the market. It's recommended by many dermatologists for getting similar results to in-office microdermabrasion treatments, and it's a little less expensive than other products that offer the same features. Most reviewers say that they had a great experience with the device and achieved their desired results. The manufacturer offers a full refund if you're unsatisfied with your results, too.
Pros
Long-lasting battery; portable
Powerful suction
Auto mode provides helpful treatment guide
Cons
Easy bruising if you're not careful
Have to replace tips every six months
Best Microdermabrasion Machine – Buyer's Guide
There are a wide variety of microdermabrasion machines on the market. Some are more advanced than others with stronger suction, extra features, and higher quality materials. You don't need a top-of-the-line machine to make noticeable improvements to your skin, but it's still important to make a careful decision. Choosing the wrong device for your skin type could actually cause you to damage your skin by accident.
A microdermabrasion machine exfoliates your skin by using a high-pressure flow of abrasive crystals. As you move the wand around on the surface of your skin, the crystals will loosen the dead skin cells. Then, the built-in vacuum sucks up the dead skin cells through the wand. A small filter in the machine will catch all the dead skin, so it doesn't clog up the machine. The filter should be changed after every use.
Because microdermabrasion uses abrasive crystals and powerful suction, you have to be careful with the treatment. If you use it too often or leave the wand on your skin for too long, it can break the blood vessels under the skin and cause bruising. Some redness is pretty much unavoidable after microdermabrasion, but it should go away within a day or two. If you don't follow the instructions, the bruising could be much worse and much longer-lasting.
The two main types of machines are crystal and diamond. Crystal machines usually use aluminum oxide crystals, which are almost as hard as diamonds, to exfoliate the skin. This can be very effective for removing dead skin, but the crystals can break off and go flying as you use the device. This could result in small crystal particles in your eyes, nose, or mouth. Many newer devices use diamond wand tips instead, which are more stable. Diamonds work just as well for loosening dead skin particles, but diamond wands won't send crystal debris flying in every direction.
One of the most important features of any microdermabrasion machine is its suction power. If the machine isn't powerful enough to remove the dead skin, it can't do its job properly. On average, home microdermabrasion machines have about 16 inches/Hg of power, but some can reach 28 inches/Hg. The best machines have multiple settings, so you can adjust the strength of the suction and avoid damaging your skin.
You should also consider the tools and extra features included. Some machines come with multiple wand tips for different skin types, which is very helpful. Some include extra filters, so you don't have to buy them separately. Some machines even have an LCD screen that displays instructions and guides you through the treatment process. You may not need all of the fancy features that some of these machines have to offer, but it's good to choose a device that provides some extra tools and supplies.
Size and portability might be another important factor for you. Some machines are bulky, heavy, and not meant to be carried around with you. Others only weigh a pound or two and can easily be packed up and put in a suitcase to travel with. If you travel frequently and don't want to miss a treatment, you should look for one that's small, compact, and battery-powered.
Best Microdermabrasion Machine
It can be tough to choose the best microdermabrasion machine. They all have different pros and cons, so you have to consider your needs and priorities. If you want a simple, budget device, the Appolus might be the best choice. If you want one that guides you through the microdermabrasion process, the Microderm GLO and the Trophy Skin are better options. If you have sensitive skin, the ultra-sensitive discs of the PMD would probably be helpful. If you want a machine that has a wider variety of functions, the Kendal may be right for you.
Whichever device you choose, carefully following the instructions is essential. A microdermabrasion machine is meant to improve your skin, but it can backfire if you don't use it properly. As long as you're mindful of the directions, though, you should have a great experience with your microdermabrasion machine.