If you're in the market for a new sewing machine, you may be overwhelmed by all of the options. New technology has allowed manufacturers to introduce advanced and automated features, so many of today's sewing machines are much different from your grandmother's. If you're patient with your search, though, you can find a machine that does everything you need it to do and more. Here are five of the best sewing machines for quilting: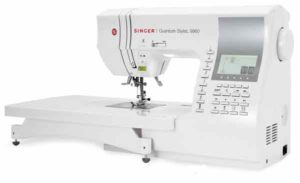 Singer is one of the oldest and most reputable sewing machine brands, and the Quantum Stylist 9960 is one of their best-reviewed products. The machine comes with 600 built-in stitches, an extension tray, and a variety of presser feet, including a quilting foot. It also comes with a user manual, and Singer's website has a helpful FAQ section for troubleshooting problems with this particular model. The Quantum Stylist has a strong metal frame, which makes it a little heavy at 18 pounds. However, it's a tough, durable, and long-lasting machine.
Singer seems to be dedicated to designing machines that are as easy to use as possible, and there are so many automated and simplified features on the Quantum Stylist. It has an automatic needle threader that the manufacturer claims only takes a few seconds. The first time you use the threader, it will probably take about a minute. After a few tries, though, it will be much faster. There's an LCD screen on the front of the machine that lets you select the stitch pattern, length, and width. With the autopilot feature, you can set a maximum sewing speed and control the machine with a start and stop button. The Quantum Stylist can reach a maximum speed of 850 stitches per minute.
Unfortunately, this machine doesn't come with a quilting tray. It's still a good machine for quilting, but the lack of a tray might make it a little more difficult. Also, the throat is only 6.5 inches, which is fairly small for quilting. If you're used to a machine with a larger throat, adjusting to the Quantum Stylist might be tough.
The Singer Quantum Stylist is a good machine for beginners as well as seasoned professionals. Once you get familiar with the machine, the features are simple to use. With 600 different stitches, the machine should be able to do everything you need. The extension table is especially helpful for quilters to increase their work space size. The machine comes with a 25-year limited warranty, and if you treat it well, it could easily last that long.
Pros
600 built-in stitches
Comes with wide variety of presser feet
LCD screen to easily choose settings
Autopilot feature
2. JUKI TL-2000Qi – Best Manual Sewing Machine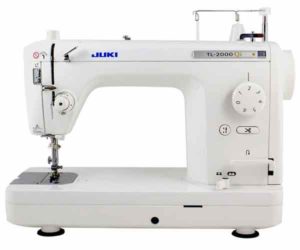 The Juki TL-2000Qi is one of the more expensive machines on the market, but it's worth the price. It has a reputation for being a great quilting machine, and it has excellent user reviews. The machine is made with an aluminum die cast frame, which reduces the vibrations and makes it quieter and easier to work with. This frame does increase the machine's weight, though. At 25 pounds, it won't be as easy to pack up and bring with you as some other models. It's designed to be a heavy-duty machine, which inevitably makes it less portable.
The Juki machine uses an automatic needle threader and comes with an extension table to increase your work area, which is important for quilting. One of its best features is the knee lift lever, which lets you raise and lower the presser foot without using your hands. You won't have to take your hands off of your work, and you won't risk poking your hands with the needle. The Juki TL-2000Qi has an 8.5 inch throat, which is significantly larger than the Singer Quantum Stylist and should give you plenty of space for quilting. This machine is extremely fast, too, with a maximum speed of 1,500 stitches per minute. Even though the machine works so quickly, reviewers still praise the stitch quality. The machine makes even, consistent stitches without ever skipping one.
Unlike the Singer Quantum Stylist, the Juki TL-2000Qi uses all manual controls. This means that there's no risk of a computerized part breaking or working improperly, but it also means that the machine has a steeper learning curve. Once you get used to the machine, it's very straightforward. It may take a little while to feel comfortable, though. You'll need to read the instruction manual and do some trial runs before starting on a project.
The biggest downside to the Juki machine is that it only does one stitch. Compared to the Singer machine that does 600 stitches, you have much fewer options with this machine. If you're quilting, you may only need the one straight stitch. However, if you want to do a project that requires other stitch patterns, you'll be out of luck. With the machine being as expensive as it is, this is a big limitation.
If you're sure you only need the straight stitch pattern, though, the Juki TL-2000Qi is highly recommended. It's a reliable, consistent, and high-quality machine. Because it reaches a high speed of 1,500 stitches per minute, it's especially great for people who need to work quickly and efficiently.
Pros
High speed; 1,500 stitches per minute
High quality stitches
Automatic needle threader
Includes a knee lift lever for convenience
Cons
Only does one stitch
Steep learning curve
Heavy; not easily portable
3. SINGER 7258 – Best Budget Sewing Machine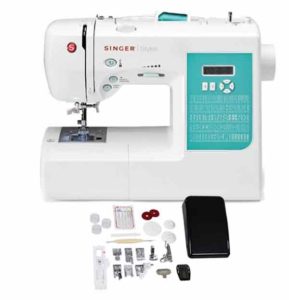 The Singer 7258 is one of the best beginner and budget options for a sewing or quilting machine. It comes with plenty of accessories, but it's still easy to figure out. The machine has 100 built-in stitches including 76 decorative stitches, 10 different presser feet, and an automatic needle threader. To illuminate your workspace, the Singer 7258 has two long-lasting LED lights. It weighs just under 15 pounds.
The ease of use is this machine's best feature. When you buy the machine, you'll get an instructional manual and a DVD, which is great for people who have never owned a sewing machine before. The automatic needle threader is much simpler to use than a manual threader. There are automatic settings for stitch length, width, and tension, but you can also customize them. Most of the controls are computerized, and the machine has a large LCD screen to adjust the settings. To choose a stitch pattern, all you have to do is press a button. There aren't an overwhelming number of different accessories, but the Singer 7258 has everything most sewers need.
The machine has a maximum speed of 750 stitches per minute. While this isn't slow by any means, it is a bit slower than some of the other options. If you want an industrial machine that can work extremely quickly, you might be frustrated with the Singer 7258's speed. The machine also doesn't come with an extension table, but you can buy one separately. One common complaint from reviewers is that the machine starts to get noisy after a lot of use. Other reviewers say that noise isn't a problem at all, though, so it's hard to tell what causes the issue.
Despite a few minor issues, this Singer machine is one of the most popular budget sewing machines available. It has thousands of positive user reviews online, and it's intuitively designed to be easy to navigate. Like the Quantum Stylist 9960, it has a 25-year limited warranty. If you're a beginner or if you're looking for a less expensive option, the Singer 7258 is probably the best machine for you.
Pros
Good beginner option
100 built-in stitches
Automatic settings and computerized controls
Cons
Slower stitch speed than other machines
No extension table
Some complaints about noise
4. Brother HC1850 – Best Sewing Machine for Beginners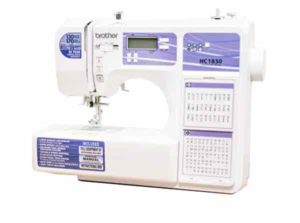 The Brother HC1850 is a highly reviewed sewing and quilting machine. The machine includes an LCD display screen, which lets you choose between stitches by pushing a button. It also comes with eight presser feet and a detachable wide table for quilting. You'll get an instructional manual and DVD as well. The Brother HC1850 only weighs about 13 pounds, so it's much lighter than most of the machines on this list. Manufacturers typically sacrifice some of the durability to lower the weight, though. This machine is easily portable, but it might not be as tough as a 25 pound product.
Brother is among the most well-known brands for sewing machines, and their loyal customer base proves that they put out quality products. The Brother HC1850 is one of their simpler, budget machines, but it also has lots of features. It has 130 built-in stitches, and 14 of those are quilting stitches. There are LED lights to illuminate the work area, an automatic needle threader, and a switch to control your sewing speed. The machine reaches a maximum speed of 850 stitches per minute, which should be fast enough for beginners and casual hobbyists.
While the Brother HC1850 has plenty of great features, it also has a few issues that may make quilting difficult. Some users say that the presser foot doesn't rise enough for thick quilts. Also, the throat is under 6 inches, which doesn't leave much space for heavy-duty quilting. This is a good machine for small quilting projects, but if you're an intense quilter, you may prefer a machine that's better equipped for larger projects. Most reviewers say that this is an excellent starter sewing machine to use before graduating to a larger and heavier duty one.
While it might not be the best machine for experienced or industrial sewers, it is one of the best beginner and budget machines. It has plenty of features and extra accessories. When you buy a Brother sewing machine, you get a 25-year limited warranty and free phone support for the lifetime of the machine. This model is quite easy to get the hang of compared to some other sewing machines, though, so you hopefully won't have any issues.
Pros
130 built-in stitches; 14 quilting stitches
Detachable table for quilting
Automatic needle threader
Cons
Small throat; not ideal for heavy-duty quilting
Presser foot might not lift enough for thick quilts
5. Brother SE400 – Best Computerized Sewing Machine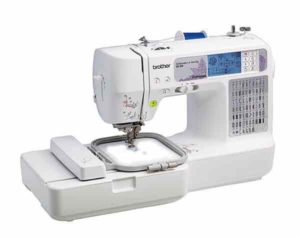 The Brother SE400 is one of the most highly-reviewed sewing machines on the market. It's a combined sewing and embroidery machine, but many reviewers mention using it for quilting as well. It weighs about 14 pounds, so it's lightweight enough to be easily portable. Lighter machines tend to be less durable, though, and you should remember this if you're looking for a heavy-duty machine.
This machine comes with a variety of different features. It's easy to become overwhelmed by all of the different buttons, selections, and accessories, but you should take advantage of the user manual that comes with the machine. There are 67 built-in stitches that you can scroll through on the LCD screen, so you will definitely find one that works for your project. The machine also has an automatic threading system and a jam-resistant bobbin system.
One of the Brother SE400's most unique features is its computer connectivity. It comes with some embroidery designs already available, but you can import extra designs from your computer. You can also install updates to your machine's computerized technology as the manufacturer rolls them out. However, the machine doesn't have USB capability, so you have to directly connect it to your computer. This could be difficult if you only have a desktop computer, so you should make sure you have a plan of action for connecting your computer before you buy this machine. If you don't plan on doing any embroidery, the computer connectivity won't matter as much.
The Brother SE400 has excellent user reviews, but one common complaint is that the LCD interface is not intuitive. There are some confusing symbols, and you may have to scroll through pages and pages of stitch patterns to find the one you want. You'll probably need to have the manual open next to you the first few times you use the machine. The LCD interface is more important for embroidery than for quilting, though, so you may not have any issues if you're just working on quilting projects.
Although the Brother SE400 is designed more for embroidery than for quilting, it has plenty of great quilting features. Many reviewers say that it's the best sewing machine available. Like the Brother HC1850, you'll get a 25-year limited warranty and free phone support with this machine. Since some of the features are a little tough to figure out, it's good to know that Brother's customer support is always ready to help.
Pros
Computer connectivity
67 built-in stitches
Automatic needle threading and jam-resistant bobbin system
Cons
LCD interface is not intuitive
Best Sewing Machine for Quilting – Buyer's Guide
Buying a sewing machine can be a difficult process. Even if you're an experienced sewer, there are so many features and specifications to be aware of that shopping for a machine can be overwhelming. The first step in purchasing a sewing machine is understanding exactly what you need. Consider what projects you're planning on working on and what setting or accessories will be necessary to complete those projects.
In this day and age, more and more sewing machine features are being automated. Lots of machines nowadays have LCD displays that let you scroll through different stitch patterns to easily choose one. Automatic needle threading is another great feature that can save time and prevent frustration. Machines that let you set a maximum speed and simply push a button to start and stop are helpful, too, especially for beginners. You don't need any of these features for a successful sewing or quilting project, but they can make the process easier.
If you're looking for a machine for quilting, there are some specific things you should keep in mind. First, you'll need an extension table to increase the size of your workspace. If your machine doesn't come with one, you'll have to buy it separately. A quilting tray is a good accessory to have on hand, too. You also should pay careful attention to the machine's specs to make sure it can accommodate quilting projects. Machines with smaller throat sizes should work fine for smaller projects, but it could be a big hassle to complete a big quilting project with a small machine. The presser foot needs to lift up enough to accommodate thick quilting materials, too.
Weight and durability can make a big difference in the functionality of your machine. If you plan to store your machine away in the closet and carry it out each time you use it, you may want to look for a lighter machine. Weight usually correlates with durability, though, so you may have to be more careful with lightweight machines. Heavier machines are sturdy and tough, but transporting them anywhere will be exhausting.
The warranty and customer support are two important considerations as well. Even the best sewing machines can break, and they're difficult to repair on your own. A warranty is a major bonus, and you might want to make it a requirement when shopping for a machine. You should also shop for a brand that has good customer support in case you have to troubleshoot issues. At the very least, your sewing machine should come with a helpful user manual.
Best Sewing Machine for Quilting
Every machine on this list has great reviews from quilters, but they all have different features. If you're a beginner or on a tighter budget, the Singer 7258 or the Brother HC1850 are probably your best options. If you prefer manual controls to computerized technology, you may want to go with the Juki TL-2000Qi. If you want a machine with plenty of accessories and features, the Singer Quantum Stylist might be the right choice. If you're interested in embroidery as well as quilting, the Brother SE400 probably has the best features for you.
All sewers have different styles and preferences, so there isn't one machine that will work best for everyone. What's important is that you make a careful and informed decision about the sewing machine that will bring you the most success for your projects.