When it comes to hairdressing, a high-quality hair clipper makes all the difference. If you're a professional hairdresser or barber, you probably already have a collection of your favorite tools. It's good to stay up-to-date on the best new clippers and to look for new ones to add to your stock, though. If you just like to cut your own hair, a professional clipper will make the process much easier.
There are hundreds of different hair clippers on the market, so finding the best one can be tough. To help you get started on your search, here are five of the best professional hair clippers that are available today: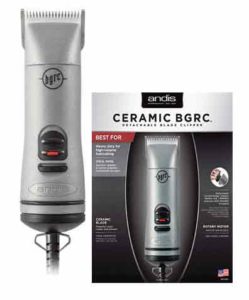 The Andis Professional Ceramic clipper is cordless, which gives you much more freedom to move around while you work. If you don't want to worry about the battery dying in the middle of a haircut, you can buy a cord separately. The clipper uses detachable blades, which are easy to clean and change. The Ceramicedge #000 blade that comes with the clipper stays cooler than traditional blades, which lets you use it safely for a longer time. When you buy the Andis clipper, you'll also get seven plastic attachment combs ranging from one-sixteenth inch to one inch, a bottle of clipper oil, and a heavy-duty storage case.
Several reviewers mention how easy and low-maintenance this clipper is. You can cut hair smoothly, quickly, and consistently without the clipper snagging or getting jammed. It's easy to assemble and disassemble, and it's lightweight enough to use for a long time without getting tired. It weighs less than a pound and is only 6.5 inches in length, so it's easy to travel with.
The Andis Professional Ceramic clipper is designed for medium-weight hair. The manufacturer says that it might work for some thick hair, but it's not designed for heavy-duty use. If you often cut thick hair, you'll need separate clippers to avoid damaging the Andis. The battery lasts for one hour when fully charged, and it takes under an hour to charge completely. You should oil the blade before every use to prevent it from wearing out too quickly.
The biggest problem with the Andis clipper is that it's hard to use for fades. You'll have to swap out different sized blades for each layer, but the product only comes with the #000 blade. Even if you don't plan on performing fades, you'll probably have to buy other blades separately, but switching them out multiple times during one haircut can be time-consuming. The Andis clipper also uses older battery technology than most clippers. It's powered by an NiCD battery instead of a lithium-ion battery, which is the standard today. NiCD batteries still work well, but they usually have a shorter lifespan than lithium-ion batteries.
The Andis Ceramic clipper is expensive, but it's one of the best products available. The detachable ceramic blades are a great alternative to metal blades once you adjust to them, and the rechargeable battery gives you more freedom than a cord. This clipper is highly recommended to anyone who's willing to spend the extra money on a quality product.
Pros
Cordless; long battery life
Sharp ceramic blades that stay cool
Compact and lightweight
Cons
Only comes with one blade
Hard to perform fades
2. OSTER Classic 76 – Best Heavy-Duty Hair Clipper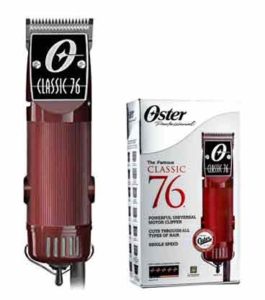 The Oster Classic 76 uses detachable blades and a single-speed universal motor. It comes with #000 and #1 blades, but you can buy other sizes separately. It has an ergonomic design meant to reduce hand fatigue as well as a comfortable textured grip. It also comes with a blade guard, lubricating oil, clipper grease, and a cleaning brush. To prevent the clipper from overheating, you should lubricate the ball bearings with the oil before every use and take short breaks between each haircut. The Oster 76 uses a 9-foot power cord, which gives you plenty of freedom to move around.
At 1.7 pounds and 7.5 inches, the Oster 76 is slightly larger and heavier than most clippers. Although it has an ergonomic design, some users have reported hand cramping after a long period of use. You should keep this in mind if you have smaller hands. The Oster 76 clipper is also louder than the average hair clipper, so it may not be the best option for you if you're sensitive to loud noises. Like the Andis Professional Ceramic clipper, this clipper also isn't great for fades. The blades are detachable, so you'll have to switch them out manually for different hair lengths.
Although there are a few minor issues with the Oster 76, this clipper is overall an excellent product. The manufacturer describes it as "ultra-durable," and reviewers agree. It's designed for heavy-duty use, so it's a favorite of professional hairdressers. The metal blades are high quality and deliver consistent cuts, and the motor is very powerful.
Oster is one of the most popular and well-known hairdressing brands for a reason. The Classic 76 clipper is durable, precise, and reliable. If you need a clipper that can handle frequent and heavy-duty use on thick hair, this might be your best option.
Pros
Powerful motor
9-foot power cord
High-quality blades
Cons
Noisy
Slightly heavy
Hard to perform fades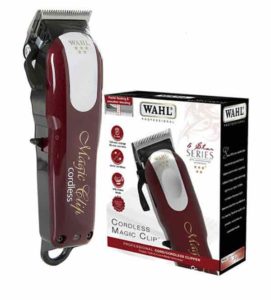 The Wahl Professional 5-Star Magic Clip is one of the most popular and well-reviewed clippers. It comes with eight attachment combs ranging from one-sixteenth inch to one inch, a cleaning brush, a blade guard, and a bottle of lubricating oil. The clipper has an adjustable taper lever with notches, which can help beginners get used to the different settings.
You can choose between two different versions of the Wahl Magic Clip: cordless and corded. The cordless clipper uses a lithium-ion battery with a 90-minute run time when fully charged. It takes three to four hours to charge completely, but you can plug it in and keep using it while it charges. The charging cord is long enough to allow some freedom, and it's treated to resist chemicals that may spill on it in a barbershop or hair salon. Although it can run while charging, you still need to give it breaks occasionally to prevent overheating.
If you don't want to rely on a battery, you can get the corded version of the same clipper. There are a few key differences to be aware of. The corded version uses the V9000 motor, which is much more powerful than a typical motor. The cordless clipper uses a rotary motor, which is less powerful than the V9000 but has a lower chance of the blades getting misaligned. The corded version is slightly larger and heavier, too, measuring 6.5 inches weighing about 1 pound. The cordless clipper only weighs 10 ounces and is 6.25 inches long.
One complaint with the cordless clipper is that it loses speed after five or six uses. This may happen before the battery runs out fully, so you may not be able to take full advantage of the 90-minute battery life. You should prepare to plug it in before the 90 minutes is up, or your haircuts might start to take longer and longer. Another thing to be aware of is the risk of cutting yourself or your client. The clipper uses Wahl's zero-overlap 2161 blades, which are fast and smooth but also extremely sharp. It's especially important to be careful if you're a beginner. The clipper is lightweight, so you have to keep a firm grip on it at all times to stop it from slipping out of your hand and causing an injury.
The Wahl Magic Clip is great for professionals and beginners alike. You can get a lot of use out of the clipper before it starts to overheat, and it's fairly quiet, which is good if you're working professionally. If you need a reliable, sharp, mid-range clipper, the Wahl Magic Clip is a great choice.
Pros
Cordless; 90-minute battery life
Sharp, fast, and smooth blades
Small and lightweight
Cons
Starts to lose speed after a few uses
Easy to cut yourself or client if you're not careful
The Wahl Professional Senior Clipper is one of Wahl's oldest products, but it still holds up to today's standards. It's sturdy and durable with the lower half made of chrome and the upper half made of high-quality plastic. It has a side lever for quick and easy fades and tapers, and it uses an exceptionally sharp blade.
The Senior Clipper weighs about 1.25 pounds and is 6.5 inches long, so it's slightly larger than average. However, it has a sturdy handle and an ergonomic design, so it should be easy to use for long periods of time without your hand getting too tired. The cord is 8 feet long, so you can move around quite a bit while using the clipper. It's also resistant to chemicals, so you don't have to worry if you accidentally drag the cord through a spill or spray something on it. The Wahl Senior Clipper comes with a few attachment combs, a blade guard, a cleaning brush, and lubricating oil.
Like the corded Wahl Magic Clip, the Senior Clipper uses the V9000 motor, which is very powerful and is excellent for heavy-duty clipping. It also stays cooler than traditional motors and can cut wet hair, but it's typically better to cut hair when it's dry. The clipper comes with the Wahl #1005 all-purpose blade, so you can cut all hair types. You may have to use a few passes for thicker hair, but it should still be a smooth and consistent cut. You can zero gap the blade, but it will become so sharp that you could risk cutting yourself or your client. If you're a beginner, you should stay with the standard blade setup.
Unfortunately, the Senior Clipper only comes with three attachment combs. The other clippers on this list come with several more, and you'll probably have to buy a few extra combs separately. The Senior Clipper is less expensive than some other options, but one of the reasons is because it comes with minimal accessories. A few reviewers have also mentioned that the clipper is particularly noisy, which can be a nuisance if you're working in a busy salon or barbershop.
The Senior Clipper is a quality product on the lower end of the price range. If you want a heavy-duty clipper but don't need lots of combs or accessories, this may be a good option for you.
Pros
Powerful V9000 motor
Side lever for fades and tapers
Sturdy and durable
Cons
Noisy
Only comes with three combs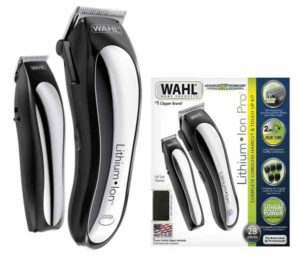 The Wahl Lithium Ion Cordless Clipper is popular for home use and for professional use. It uses a lithium-ion battery and has a heavy-duty motor. According to Wahl, this clipper's motor is 50 percent more powerful than their traditional motor. It has a no-snag cutting system, and it runs smoothly and consistently. The battery can last up to two hours, which is the longest battery life of all the cordless clippers on this list. It has a 10-minute quick charge feature that gives the battery enough life for one cut. The manufacturer says that the battery takes several hours to fully charge, but some reviewers say that it fully charges in about 40 minutes.
One of the Wahl Lithium Ion's best features is the kit of accessories it comes with. Unlike most clippers, you won't just get the device and a handful of attachment combs. The clipper includes a full set of guides from one-sixteenth inch to one inch, and it comes with a cleaning brush, oil for the blade, a blade guard, barber's scissors, a cape, and two combs. You'll also get a trimmer that works well around the edges and is powered with AA batteries. These accessories make the Wahl Lithium Ion a good option for beginners who don't already have all the essential tools.
Several reviewers have reported issues with the battery not charging properly after a few weeks or months of use. The users who have have had these problems are in the minority, but there is a chance that the battery in your clipper will need to be replaced shortly after you buy it. The only other common problem with the Wahl Lithium Ion Cordless Clipper is difficulty with cleaning. You'll have to clean the clipper regularly to keep it working well, but the maintenance routine is long and complicated.
The Wahl Lithium Ion Cordless Clipper is ideal for beginners or for people on a budget. It works well on all hair types, and it has a powerful motor. Because it's slightly cheaper than other professional clippers, you may run into a few issues. However, it's still a good value for the cost, especially with all of the accessories it comes with.
Pros
Two hour battery life; 10-minute quick charge
Powerful motor
Comes with full kit of accessories
Cons
Difficult to clean
Many reports of battery and charger problems
Best Professional Hair Clippers – Buyer's Guide
If you're a professional hairdresser, you understand the importance of good clippers. If you're a beginner looking for a quality clipper for personal use, you may be tempted to buy the first cheap product you see. It's a very important decision, though. Buying the wrong hair clipper could lead to a number of problems, from a slow working time to embarrassing haircuts to cuts from the blade.
One of the most important qualities in a hair clipper is a powerful motor. There are a variety of different types of motors, but the stronger ones can cut wet hair or thick hair easily. Overall, rotary motors are considered to be the best. Magnetic motors can be faster, but they're less powerful than rotary motors. A good motor will have a speed of about 10,000 rotations per minute.
The blade is another important feature. Without a good blade, your haircuts will be slow, inconsistent, and uncomfortable. Stainless steel blades are typically very reliable because they're rust resistant and easy to clean. Ceramic blades are also a good option as they won't overheat as easily as metal. Most blades are self-sharpening, but some need to be sharpened regularly. Whichever clipper you choose should also have a blade guard, which will help prevent the blade from nicking the skin.
You'll have to choose between a corded or a cordless clipper. Cordless clippers are powered by rechargeable batteries, and they give you the freedom to move around without being limited by a cord. If they die halfway through a haircut, though, you'll be in trouble. If you do choose a cordless clipper, you should find one that charges quickly or can be used while charging, so you won't end up with an angry client waiting an hour to finish their haircut. With corded clippers, you'll never have to worry about a battery dying. However, your mobility will be limited, and cords tend to get tangled up easily.
Most hair clippers are designed in the same way, but they use some different materials in different sizes. Weight, size, and design are all important considerations, especially if you'll be using the clipper all day, every day. Even if you only need it for personal use, you don't want your hand to get too tired to finish the job well. It's best to look for clippers that are under 2 pounds, but clippers that are under 1 pound are the most reliable for preventing hand fatigue. Clippers with textured grips are helpful for keeping control over the device.
Best Professional Hair Clipper
Your own hair-cutting skills are important, but the clipper you use will make a big difference in your results. You should pick a hair clipper based on how frequently you plan to use it, what types and styles of hair you cut, and how many combs and other accessories you need.
The Andis Professional Ceramic and the Wahl Lithium Ion clippers are both good cordless options, but the Wahl clipper is better suited to a tighter budget. The Wahl Senior Clipper is one of the sharpest clippers, and the Oster Classic 76 is best for heavy use on thick hair. If you're new to cutting hair and need something easy to use, the Wahl Magic Clip might be your best option.