Grinding meat manually may seem old-fashioned or tiresome, but it's actually quite easy. There are so many benefits to grinding your own meat instead of buying prepackaged. It's cleaner, safer, and healthier to prepare your own meat. One package of ground beef from the grocery store can contain parts from hundreds of different animals, and there's a higher risk of contamination. Freshly-ground meat that you prepare yourself is fresher and better-tasting. You can save money in the long run, too.
If you plan on using a meat grinder regularly, picking one out is a big decision. The grinder will affect the texture and taste of the meat, so you need to buy one that's right for your needs. Here are five of the best manual meat grinders:
Product
Size, inches
Weight, pounds
Sausage Attachment
Fixing
Artence
(Editor's Choice)

9.6x6x5.9

2

1

suction base

Kitchen Basics

7.7x5.4x5.2

2.12

3

suction base

Gideon

10.9x6.7x6.1

2.55

-

suction base

LEM

11.5x8.3x5.3

8.65

3

mounting on

Weston

5.2x12.1x9.4

9.4

3

mounting on
1. Artence – Editor's Choice Best Plastic Meat Grinder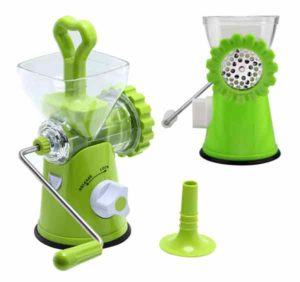 The Artence meat grinder looks small and flimsy, but it's surprisingly durable. It only weighs about two pounds and has a food-grade plastic exterior with a stainless steel plate and blades. Along with the grinder, you'll also get a separate pusher to feed the meat into the tube and a sausage attachment for making homemade sausages. The grinder comes in a nice green color.
The meat grinder is easy to assemble and disassemble, which is helpful for cleaning and storing it away. It grinds meat at a rate of 18 grams per second, which is standard for manual meat grinders. The speed and capacity should be plenty for making average-sized meals. You can also use the Artence for grinding up nuts, coffee beans, carrots, and other foods. The handle is powerful but easy to use, and several reviewers say that even their young kids were able to use the grinder without any problems.
Most people like that the meat grinder is small and lightweight because it doesn't take up too much space. However, the upper container might not be big enough for a large meal. If you're feeding a lot of people, you may have to keep refilling the container. A few reviewers also say the suction base is flimsy, but others say that it works great. It may depend on the surface you attach it to, so you could try it out on your kitchen counter and table to see which surface works better.
The Artence is a perfect example of not judging a book by its cover. When you see the meat grinder, you might think that it won't last five minutes before breaking down. Multiple reviewers said that they planned on returning it once they saw it because they didn't think it would work well. However, they were pleasantly surprised to find out that it's one of the most durable and efficient manual meat grinders on the market. As long as you take care of it, your Artence meat grinder should live a long and successful life.
Pros
Stainless steel plate and blades
Easy to disassemble for cleaning and storing
Comes with a sausage attachment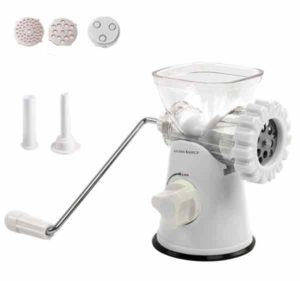 The Kitchen Basics meat grinder weighs two pounds and is only about eight inches tall. Like the Artence grinder, it might not look sturdy, but it's durable enough to handle meals for the average family. The grinder is made mostly of plastic, but it has stainless steel blades and a metal handle. It comes with two mincing plates: a coarse plate with three-eighths inch holes and a fine plate with three-sixteenths inch holes. You'll also get an attachable sausage funnel with three different sizes. The base of the grinder has a suction cup to help it securely attach to a countertop.
The Kitchen Basics grinder also functions as a vegetable mincer and a pasta maker. You can prepare rigatoni or spaghetti, mince garlic, or puree vegetables for baby food. The metal handle is powerful and doesn't need much force to turn, and the grinder works quickly and efficiently. To disassemble it, all you have to do is turn the dial to unlock the base and slide the upper container and other parts out.
The meat grinder is dishwasher safe, but you should wash the blades by hand to prevent them from dulling. It's also important to rinse the grinder out right after using it to prevent any residual meat from hardening on. Some reviewers say that the grooves inside the grinder get filled with meat and are difficult to clean out, but washing it right away should help.
The Kitchen Basics grinder works well for most meats and vegetables, and it can handle average-sized quantities. However, you have to be careful not to overuse it, or it may wear out quickly. Putting too much pressure on the handle will damage the device, and using the grinder for more than 15 minutes without a break could be harmful. If you know you'll need to grind up large quantities of meat, you may want to look for a larger and more powerful grinder. This grinder also isn't the best for handling harder or tougher meat.
If you want a grinder that can serve more than one purpose, the Kitchen Basics device is one of your best options. You can prepare meats, veggies, and pasta in multiple styles with the two mincing plates. As long as you don't plan on making industrial-sized quantities of food, this grinder should serve you well.
Pros
Stainless steel blades and metal handle
Dishwasher safe
Comes with two mincing plates and three sausage funnels
Lifetime warranty
Cons
Not great for tough meat; not extremely strong
Some parts difficult to clean
3. Gideon – Best Heavy-Duty Plastic Meat Grinder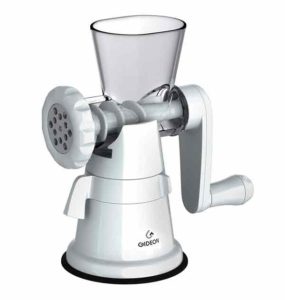 The Gideon meat grinder is a little larger than the Artence and Kitchen Basics, but it's still small enough to easily store in your kitchen. It's made mostly of heavy-duty plastic, but it has stainless steel blades. The grinder comes with fine and coarse mincing plates, so you can prepare a variety of meats and vegetables. It also comes with a pusher to feed the meat into the grinder, which makes it more efficient.
The Gideon is easy to set up and to disassemble. You can quickly pack it up to bring it to barbecues, camping trips, or other get-togethers. The handle turns easily with little effort, and the grinder can handle tough and softer meats. The blades are protected, so there's no risk of accidentally cutting your hand when operating the grinder. It's dishwasher safe and easy to take care of. Like the Kitchen Basics grinder, you should hand-wash the blades, but most other pieces can go right into the dishwasher.
A few reviewers have mentioned problems with meat catching on the blade, sticking to the holes in the mincing plates, or getting stuck in other parts of the grinder. If you need to prepare a large quantity of meat, you may have to take breaks to clean out the grinder when it jams. Cutting the meat into small pieces will help, but this can be time-consuming. Some users also have trouble getting the suction cup base to stick to their countertop, but wetting the surface with some water should help.
The Gideon meat-grinder is one of the heavier-duty meat grinders meant for home use. You still need to be careful not to overload the grinder, but the product should be durable and long-lasting. Except for a few problems with the meat sticking in the grinder, this is a great all-around product.
Pros
Heavy-duty plastic and stainless steel blades
Compact and easy to disassemble
Dishwasher safe
Cons
Meat may get stuck in grinder
Suction cup base doesn't always work well
4. LEM – Best Stainless Steel Meat Grinder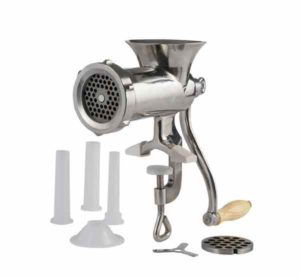 The LEM grinder looks more like an old-fashioned meat grinder than the typical plastic products on the market today. Made of heavy-duty stainless steel, it's easy to clean and resistant to rust. It's important to note that the plate and blades are made of carbon steel, which is also very durable but will rust if you don't dry it right after washing. You don't have to worry about plastic parts wearing out or breaking down. The LEM grinder is strong, stable, and powerful. It comes with coarse and fine plates as well as three stuffing tubes for sausage.
This grinder has a clamp-on style rather than a suction cup base. The clamps have a 1.25 inch opening, which should be wide enough to mount on most countertops and tables. Some reviewers say that it's too small, though. You should measure your countertops or table before you buy this grinder to make sure it will fit. If you're determined to buy the LEM grinder even though your counters are too wide, you could clamp the grinder onto a board and clamp the board onto the countertop.
Because the LEM grinder is made entirely of steel, it's heavier and tougher to grind than some of the other products on this list. It might take a little elbow grease to turn the handle, although the meat should grind smoothly and efficiently. There are also some complaints from reviewers about manufacturing flaws. It seems unfortunately common to receive a grinder with broken or missing parts. You'll get a one-year warranty, though, and several reviewers mention the great customer service from the manufacturer, so any issues you have will hopefully be cleared up right away.
The LEM grinder is more expensive than the other meat grinders on this list, but it's worth the cost. It's durable, powerful, and efficient, and it has great reviews from home users and from professionals. If you're willing to spend a little extra money on a heavy-duty grinder that will last for years and years, this is probably your best option.
Pros
All stainless steel; heavy-duty and rust-resistant
Comes with two plates and three stuffing tubes
One-year warranty
Cons
Tougher to grind than other products
Some reports of manufacturing flaws
More expensive than other options
5. Weston – Best Budget Metal Meat Grinder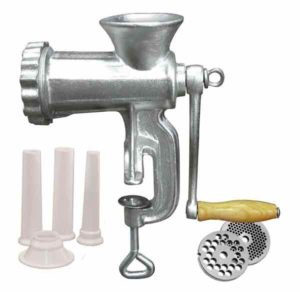 The Weston meat grinder is another all-metal option. It uses 1.5 inch C-clamps to attach to the surface, and it should fit easily on the average table or countertop. It has an ergonomic handle that's smooth and easy to crank, and assembly and disassembly are simple. You'll get two steel plates for fine and coarse grinding as well as a sausage stuffing kit with three funnels of different sizes.
The Weston grinder is made of cast iron, not stainless steel, so it's not as durable or rust-resistant as the LEM grinder. It can still handle fairly large quantities of meat, but you'll have to be careful to make sure it doesn't rust. Immediately after using it, you should hand wash it with warm water and dry it right away.
There are some critical user reviews about parts of the grinder rusting or not fitting well together. It comes with a one-year warranty, though, so you should be able to get any manufacturing problems taken care of for free. Another issue is with the upper container, which is smaller than most manual grinders. You'll have to keep feeding meat into the grinder as you go instead of loading it all in at once. Also, the grinder might not self-feed very effectively, and it doesn't come with a pusher. You should plan to use a shot glass or something of a similar size to push down on the meat and feed it through the grinder.
Although there are some complaints about the Weston product, it still grinds up meat, which is its job. If you follow the instructions in the user manual and take good care of the grinder, it should last a long time and do exactly what it's supposed to do. It's a great option if you want a metal meat grinder but don't want to spend too much money.
Pros
Made entirely of metal
Ergonomic handle is easy to crank
Comes with two steel plates and a sausage stuffing kit
One-year warranty
Cons
Cast iron not as durable as stainless steel
Doesn't self-feed very well
Best Manual Meat Grinder – Buyer's Guide
Although meat grinders all accomplish the same task, there are a variety of different designs and materials used. Whether you're a passionate chef or simply curious about preparing your own meat, it's important to understand how a manual meat grinder works and what features are most desirable.
All meat grinders have several important parts. The hopper, or upper container, is where you keep the meat before it goes into the feeding tube to be ground up. Some meat grinders come with a pusher, which is a separate device that lets you push the meat down into the feeding tube. Once the meat enters the tube, the auger, a metal spiral, grabs it and pushes it toward the blade. To engage the auger, you'll crank a handle on the outside of the device. Then, the blade cuts the meat up and sends it through the grinder plates, which are full of small holes that determine the size of the ground meat.
To have the most success with your meat grinder, you should keep the meat cold. If you send warm meat through the grinder, the fat will leak out and the texture will be dry and pulpy. Who wants that? Keep the meat in the fridge or freezer until the moment you need to grind it up. If you have space, put the grinder itself in the freezer for an hour before using it. Trim the meat thoroughly to prevent bits of sinew from catching on the blade, and sharpen the blade regularly to prevent smearing.
Different grinders will come with different accessories, so you should think about what types of meat you plan on preparing. Do you want different plate size options to make fine and coarse meat? Will you make sausage? Should the grinder also be able to mince vegetables, puree fruit, or make pasta? Check the accessories and attachments included before you make a purchase. Some products are more powerful and can grind up bones for pet food. Others are meant for tough meats like venison, and still others are better for softer meats. If you buy a grinder that's not designed for what you want, you'll only have wasted time, money, and effort.
You also should consider the materials used. The best meat grinders are usually made with stainless steel, but they're going to be much more expensive than those made with aluminum, iron, or plastic. There are plenty of manual grinders on the market with plastic or aluminum pieces that work very well, and they'll be kinder to your bank account. However, if you want a grinder that you can use regularly for years without bad wear and tear, stainless steel is the way to go.
Keep in mind, though, that stainless steel is quite a bit heavier than plastic. A meat grinder made with plastic will be much easier to move around and is a good transportable option. Even if you don't plan on taking the grinder out of your kitchen, you'll want one that is light enough to pick up and small enough to store away. Easy disassembly is important, too, because keeping your grinder clean is essential. You should take apart the grinder and wash all the pieces right after every use, and you don't want to have to wrestle with it every time.
Of course, the price is something that everyone cares about as well. Unless you're a professional or cooking is one of your biggest hobbies, you probably don't want to break the bank to buy a meat grinder. Fortunately, there are plenty of budget options available. With the exception of the LEM, all of the grinders on this list are under $40. You may have to be more careful not to overuse the less expensive options, and they probably won't become family heirlooms. However, they're still efficient, durable, and easy to use, and they should work well for feeding the average family.
Best Manual Meat Grinder
You can find dozens of quality meat grinders, and the decision is ultimately up to you. Consider what types of meats you want to prepare, how often you plan on using the grinder, and what accessories or extra features you'll need. A plastic meat grinder is a good lightweight and portable option, but a metal one might last longer. As long as you make an informed decision and use the grinder properly, you should be happy with your purchase. You'll get to enjoy some delicious food along with the satisfaction of preparing everything by hand.