Cordless lawn mowers are becoming a popular alternative to corded or gas-powered mowers. With a cordless lawn mower, you don't have to drag around an extension cord or worry about filling up a gas tank. Cordless mowers don't give off any harmful exhaust, and they're quieter than traditional mowers. They require less maintenance, and they're often cheaper. If you're in the market for a new lawn mower, a cordless one might be the best choice. Here are five of the best cordless mowers available:
1. EGO Power – Editor's Choice Best Overall Cordless Lawn Mower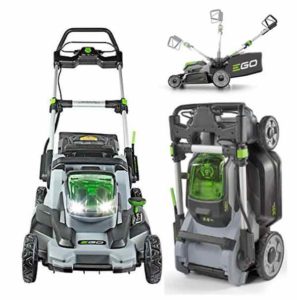 The EGO Power+ mower comes with a 56-volt lithium-ion battery. This should last about 45 minutes, but you can buy a larger battery separately that lasts up to 90 minutes. The 56-volt battery can charge in 30 minutes or less, which is helpful if you have a large yard that requires more than one battery life to mow. The mower uses a push-button start and has a 20-inch deck. It weighs about 56 pounds, which is significantly lighter than a traditional gas-powered mower.
One of the best things about the EGO Power+ mower is that it allows you to mow your yard in a variety of conditions. It's a weather-resistant machine, so you can use it rain or shine. It also has LED headlights, so you can mow your yard at night and still see where you're going. The mower is much quieter than a standard gas mower, so you don't have to worry about disturbing your family members or neighbors with the sound. When you're done, you can fold the mower up flat and tuck it away in your shed or garage.
A few reviewers have mentioned that the handle on the mower is a bit too high. If you're shorter than average, holding onto the high handle might cause some wrist discomfort after a while. Another problem is with the design of the clippings chute. The collection bag fills up quickly and needs to be emptied frequently, so many users opt for the side discharge option instead. However, to use the side discharge, you have to insert a plastic chute that slips off easily and gets clogged with grass. If you buy the EGO Power+ mower, you should expect to stop every so often to readjust the chute and clear out the grass clippings.
Despite a couple small issues, the EGOPower+ 20-Inch is one of the best mid-range cordless mowers. It has a powerful battery that charges quickly, a wide cutting capacity, and weather-resistant features. Reviewers say that it's just as effective as a gas-powered mower, but it's lighter, simpler, and more environmentally friendly.
Pros
Fast-charging battery
LED headlights
Weather-resistant
Folds flat for easy storage
Cons
Clippings chute is poorly designed
Handle might be too high for smaller people
2. Greenworks PRO – Best Powerful Cordless Lawn Mower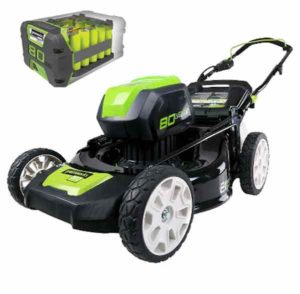 The Greenworks PRO mower has a 21-inch deck, so it's ideal for mid-sized or large yards. It has two 10-inch rear wheels, which help with maneuvering in tight spaces. The mower uses a push-button start system and has 3-in-1 capability for grass clippings. You can choose between rear discharge, side discharge, and mulching. It weighs 74 pounds, which is heavier than most cordless lawn mowers. Reviewers say the mower is mostly smooth and light, although it might get heavy if you have to go up steep hills. You can fold the mower up when you're done, so it can easily be stored in your shed or garage.
The Greenworks PRO uses a brushless motor, so it works powerfully without wasting battery life. Brushless motors are quieter than standard mowers, too, and the manufacturer claims that the Greenworks PRO makes 50 percent less noise than a gas-powered motor. This is a great feature if you have kids or pets who don't like the sound of the lawn mower or if you like to mow early in the morning or late in the evening. The mower also uses smart cut technology, which is unique to Greenworks products. The motor speed will automatically increase over tall or thick grass and decrease over short and thin grass. This keeps the mower working efficiently without wasting the battery.
When you buy the Greenworks PRO 21-Inch mower, you can choose whether the machine should come with one 4 AH battery or two 2 AH batteries. The manufacturer says that the 4 AH battery lasts up to 60 minutes, and each 2 AH battery should last about half that time. The 4 AH battery charges in 60 minutes or less and the 2 AH batteries charge in 30 minutes or less. You should be able to mow about a third of an acre before the 4 AH battery runs out, so the 4 AH battery is a good choice if your yard is smaller than this. If it's larger, the 2 AH batteries might be a better choice because you can keep one charging while the other one is powering the mower. When the battery in the mower dies, you can just switch it out with the one charging and keep going indefinitely.
The only big issue some users report with this mower is with the clippings bag. It sometimes loses clippings, so they get scattered around your yard or stuck in the mower instead. You'll have to make sure that the bag is securely attached to the mower and that the clippings don't clog up the deck.
The Greenworks PRO 21-Inch is one of the best-reviewed cordless lawn mowers available. It's on the expensive side, but it's powerful, reliable, and easy to use.
Pros
Fast-charging batteries
Brushless motor and smart cut technology
Large 21-inch deck
Folds flat for easy storage
Cons
Heavier than other options
Bagging not always effective
3. Snapper SP60V – Best Cordless Lawn Mower for Large Yards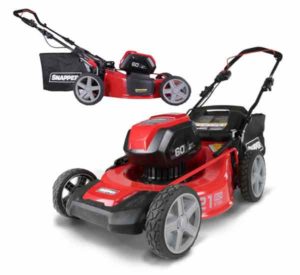 The Snapper SP60V is one of the heaviest-duty cordless lawn mowers available. It has a 21-inch steel deck, which lets it quickly cover large areas, and it uses a 60-volt lithium-ion battery. According to the manufacturer, the mower should cover up to half an acre on one charge, and reviewers also confirm the long battery life. It uses a brushless motor, which increases its power while saving the battery and reducing the volume. When you're done using the Snapper SP60V, you can fold it up and store it vertically.
The mower weighs just under 60 pounds. While it's not the lightest mower on this list, it should run smoothly and easily enough that anyone can push it without getting too tired. It uses a push-button start system and has a 3-in-1 feature for grass clippings. It can mulch or bag the clippings, or it can discharge them from the side.
The mower has seven different height positions, so you can change the height based on what type of grass you're mowing. You can't adjust the height while the mower is running, though. Any time you go through denser or taller grass and want to change the height, you'll have to turn the mower off first. If you need to change the height frequently, this can be time-consuming. Another issue some users report is that the blades get dull quickly, but this depends on how often you use the mower and on what type of grass.
The Snapper SP60V is more expensive than some of the other cordless lawn mowers on this list, but the quality is worth the price if you have a large yard. Reviewers praise how easy and efficient the machine is and how quiet the motor is. The cut quality is excellent, and you'll rarely have to go over a patch of grass more than once. If you do frequent upkeep on a large yard, the Snapper SP60V is one of your best options.
Pros
Brushless motor; long battery life
Large 21-inch deck
Great cut quality
Vertical storage capacity to save space
Cons
Can't adjust height while mower is running
Blades may dull quickly
Expensive
4. Greenworks 16-Inch – Best Budget Cordless Lawn Mower
The Greenworks 16-Inch mower uses a 40 volt 4AH lithium-ion battery. According to the manufacturer, it can mow 7,000 square feet on a single charge. It has five height positions ranging from 1.25 inches to 3.4 inches, and it uses a two-stage start system. To fire up the mower, hold down the start button while pulling the bail lever. Unlike most lawn mowers, the Greenworks 16-Inch only has a 2-in-1 system for disposing of grass clippings. It has rear bagging and mulching capabilities, but there's no option for side discharge. This isn't a big issue for most people, though. It has a 16-inch cutting deck, so it's ideal for small and mid-sized yards.
The ease of use is one of the Greenworks mower's best features. With the battery pack, the mower weighs about 50 pounds, so it's easy to push. The front wheels are 6 inches, and the rear wheels are 7 inches, which helps with maneuvering in tight areas. It's a low-maintenance machine that requires no upkeep except cleaning the underside of the mower occasionally. All of the parts should stay in good working condition for a long time.
The only problem with the Greenworks 16-Inch mower is that it takes two to three hours to charge. If you need more than one charge to mow your whole lawn, this can be a frustrating issue. The manufacturer claims that the battery lasts up to two hours, but this can vary greatly depending on the terrain of your yard and how hard the mower has to work. The long charging time combined with the small deck size makes this mower less ideal for larger yards. The Greenworks mower also can't cut in wet weather conditions, so you should keep this in mind if you live in a rainy area.
Overall, the Greenworks 16-Inch is an excellent budget option for smaller yards. As long as you can mow your whole yard on one charge, you'll be happy with how easy and efficient this mower is.
Pros
16-inch cutting deck good for small and mid-sized yards
Low-maintenance
Good budget option
Cons
Takes two to three hours to charge
Unable to cut in damp conditions
5. Sun Joe iON16LM – Best Cordless Lawn Mower for Small Yards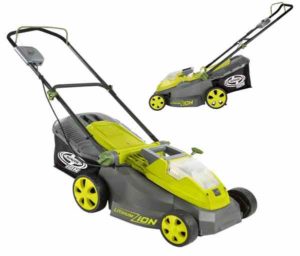 The Sun Joe iON16LM uses a 40-volt lithium-ion battery that should run for up to 40 minutes. This should give you enough time to mow a small yard, and the battery only takes about 30 minutes to recharge. The mower weighs about 37 pounds, so it's easy to maneuver without getting tired. It has all-terrain wheels to help with the maneuvering as well.
This mower is very easy to set up and use. You can have it up and running within 15 minutes of opening the package. It uses a brushless motor, which prolongs the battery life and makes the volume quieter than the average gas-powered mower. It also has six height adjustments from 1.18 to 3.15 inches.
The Sun Joe has a 16-inch deck, which is an ideal size for small and mid-sized yards. The machine can easily maneuver around trees and in small spaces. However, it will be difficult to cover larger yards with the 16-inch deck. The battery probably won't last long enough, and it may be tiring to mow a large yard with this fairly small machine. For just a slightly higher price, you can find mowers with similar features that have a larger deck.
The biggest issue with the Sun Joe mower is that there is no option for mulching or side discharge. It only has a clippings bag. This shouldn't be a big deal for most people, but some reviewers have reported issues with the bag. When it's empty, it leaves a small gap, so some grass clippings may escape and clutter the lawn. Since the clippings bag is your only option, this can be frustrating. However, once the bag fills up a bit, there shouldn't be a problem.
The Sun Joe iON16LM is highly recommended for people with small or mid-sized yards. Because the mower is smaller and slightly less powerful than average, tough sections of grass will require a few extra passes. However, reviewers praise the machine's consistent cut quality and fast-charging battery. It's one of the lightest and easiest cordless mowers on the market.
Pros
Efficient brushless motor
Quick charging time
16-inch deck good for maneuvering small yards
Cons
Not good for large yards
No mulching or side discharge
Best Cordless Lawn Mower – Buyer's Guide
A cordless lawn mower can be a valuable purchase for any homeowner. There are a wide variety of mowers that are designed for different purposes and for different lawn sizes, so narrowing your search down to one option can be difficult. Here are some of the most important considerations:
Battery
The battery is probably the most important factor in a cordless lawn mower. Without the battery, your lawn mower is completely useless. Electric mowers either use lithium-ion or lead-acid batteries to power the motor, but different models use different sizes. A trustworthy manufacturer should tell you how long you can expect the battery to last and how long it should take to charge. The exact battery life will vary depending on how tall or dense the grass is, but the manufacturer's estimate should be pretty close. If you have a larger yard, make sure you get a battery that will last long enough to cover the entire area. With today's technology, lawn mower batteries can last for years or for hundreds of charges without wearing out. They'll eventually need to be replaced, though.
Deck Size
A lawn mower's deck size is the width that it cuts. If you have a mower with a larger deck size, you can cover your yard with fewer passes, which saves time and battery life. To determine what deck size you need, consider how big your yard is and how long the mower's battery lasts. Smaller yards probably only need a 16-inch deck size, but larger ones would be better with a 20-inch or 21-inch. Keep in mind, though, that larger lawn mowers are heavier and more difficult to maneuver. You might save time by covering more area with each pass, but each pass will require more effort.
Height Adjustment
You shouldn't trim your grass to less than 30 percent of its original height. Doing so weakens it and leaves it vulnerable to disease and damage. Therefore, height adjustment is an important feature to pay attention to in a lawn mower. Most mowers have at least three or four height settings, but some have as many as seven or eight. The range should be at least from 1.5 inches to 4 inches.
Grass Clippings
Most lawn mowers have a few options for disposing of grass clippings. They may send the clippings into a bag for collection, shoot them out of the side or rear of the machine, or mulch them back into the lawn. Mulching is a good way to keep your lawn green and healthy, so this can be a valuable feature in a lawn mower. It's all a matter of personal preference, though.
Best Cordless Lawn Mower
To find the best cordless lawn mower, you have to consider the size and terrain of your yard, how long you're willing to spend mowing, and what you want to do with the grass clippings. Every lawn mower on this list comes from a trustworthy brand and has positive user reviews. The Greenworks 16-Inch and the Sun Joe iON16LM are good for smaller yards, and the others are better for larger areas. The Greenworks PRO is a great heavy-duty machine, and the EGO Power+ is efficient and easy to use. Whichever product you decide on, making a switch to a cordless mower is a great choice for you, your yard, and the environment.