Espresso is one of the most popular types of coffee and is the main ingredient in a wide variety of different drinks. If you own a coffee shop, an espresso machine is a must-have product, and it can be a good addition to a standard restaurant, too.
Since they were first invented in the early 1900s, espresso machines have evolved quite a bit. New technology has made them more efficient and reliable than ever, but they're not all exactly the same. They come in different sizes, use different materials, and have different features, so you should do plenty of research before buying one. Here are five of the best commercial espresso machines currently on the market:
1
Group 2 – (550-600 drinks per day).
2
Group 4 – (1100-1200 drinks per day).
1. Nuova Simonelli Appia II – Editor's Choice Best Mid-Range Espresso Machine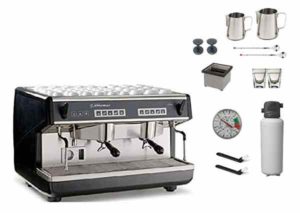 The Appia II is similar to the original Appia, but it has some excellent added features. The espresso machine weighs 133 pounds and comes with an espresso starter kit and water filter system. It's important to use the filter system to get the right water for the best flavor. The espresso machine needs some mineral content for the sensors inside the machine to work properly, but unfiltered water will give the coffee a poor taste.
The Appia II is made of stainless steel, so it's resistant to wear and looks bright and modern. It has a switchboard with touch controls for easy use, and it has programmable buttons for automatic dosing. You can simply push the button and get a perfectly portioned espresso shot, so you don't have to worry about starting or stopping the machine. If multiple people work the espresso machine at your coffee shop, this is a good way to make sure the espresso is consistent.
The soft infusion system makes soft and creamy espresso every time. The Appia II uses a copper boiler with a heat exchange feature, which keeps the temperature consistent and allows you to brew and steam at the same time. The top of the espresso machine draws heat from the boilers and functions as a cup warmer, so you won't pour warm espresso into cold cups. The Appia II also has a reverse mirror system, which lets you watch the shot pour out without having to lean down to look.
The copper boiler can hold 11 liters or about 3 gallons of water. For most people, this is plenty. If you expect to be extremely busy making espresso, though, there are other espresso machines with larger boilers available.
The Appia II is an excellent mid-range commercial espresso machine. It should have all of the features you need, and it has lots of positive user reviews. The manufacturer offers a two-year parts warranty as well.
Pros
Programmable; automatic dosing
Heat exchanger
Soft infusion system for creamy espresso
Cons
Smaller boiler than other brands
2. la Pavoni BAR-STAR 2V-R – Best Two Group Machine for Large Quantities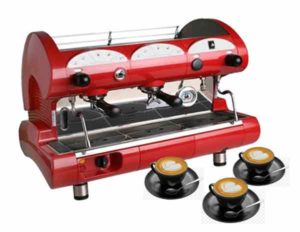 La Pavoni was the first company to commercially manufacture espresso machines, and they've had loyal customers ever since. The BAR-STAR 2V-R is one of their most popular and most highly reviewed machines. It weighs about 200 pounds and uses a 14 liter or 3.7-gallon boiler. The package comes with two steam wands and a water softener, which will remove minerals and purify water to make the espresso taste better.
The BAR-STAR has plenty of great features that can help you make espresso quickly and easily. It has two group heads, a digital control pad, and electronic programmable dosing. The machine stores up to four different doses, which lets you prepare espresso quickly and reduces the possibility of making mistakes. According to the manufacturer, the 14-liter boiler is the largest on the market. The espresso machine also has an anti-vacuum valve that prevents liquid from siphoning into the steam wands. This means that you won't need to purge the steam wands with each use.
This product has several safety and power-saving features as well. The power switch lets you operate at 75 percent power instead of full power during off-hours, which will reduce your electric bill. The BAR-STAR also has an auto shut-off feature to reduce the risk of an overload or short-circuit.
The espresso machine is bright red, which some people love for the retro look. However, if your coffee shop has a different color scheme or style, the BAR-STAR may clash. This is a pretty small problem to have, and you can solve it by simply keeping the espresso machine out of sight. A few users have complained about the loud color, though. La Pavoni does sell similar espresso machines in black, but they are more expensive. Another small issue is that it's somewhat difficult to clean the inside of the BAR-STAR because of its rounded shape.
Overall, the BAR-STAR is a great espresso machine. La Pavoni is an old and trustworthy brand, and this product has plenty of helpful features. It's slightly less expensive than other commercial espresso machines, but it's still high quality. If you like the cherry red color, the BAR-STAR is highly recommended.
Pros
Large boiler
Cost-effective power switch
Programmable dosing
Cons
Difficult to clean the inside
Bright red design may clash with your color scheme
Rancilio is a popular Italian brand that has been manufacturing espresso machines since the 1920s. The Classe 7 E2 has two group heads and weighs about 136 pounds. It comes with adjustable feet, so you can set it up at exactly the right height. When you buy the espresso machine, you'll also get a coffee tamper, a scoop, filter holders, and cleaning discs. The espresso machine has two steam wands in insulated protective sleeves to prevent burns. It has an 11 liter or 3-gallon boiler and should be able to make 150 to 200 drinks per hour.
Like the other machines on this list, the Classe 7 E2 is programmable and has an automatic volumetric pump. You can easily get the same portions each time without having to manually pump out the espresso. It also has an LCD screen that lets you easily adjust your settings and view statistics.
One of the best stand-out features of the Classe 7 E2 is its 6,000-watt heating element. It heats up very quickly and makes a fast recovery, so you don't have to worry about a slow-working machine on busy days. The machine also uses heat exchange to brew and steam at the same time. It can operate at two-thirds power when you're not busy to save energy, and it can enter a sleep mode when it goes a while without activity. It has stainless steel controls, front panels, and back panels, which look attractive and make the machine resistant to wear. The machine has side-mounted bumpers, as well, to prevent accidents in a busy kitchen.
The biggest disadvantage to the Classe 7 E2 is that it doesn't come with a water filter or a water softener. Mineralized water won't taste as good in espresso as soft water, so you'll definitely have to buy a filter if you choose this machine. Another issue is that it doesn't have a cold water mixing valve, so some drinks might turn out a little hotter than is ideal.
The Classe 7 E2 is one of the best heavy-duty espresso machines. It can churn out espresso after espresso without slowing down, which is good for busy kitchens. Although it's on the pricier side for a two-group head machine, it has lots of great features and is very consistent.
Pros
Programmable dosing
Durable stainless steel panels
Powerful heating element
Cons
No cold water mixing valve
Doesn't include water softener or filter
4. Casadio DIECI A2 – Best Budget Espresso Machine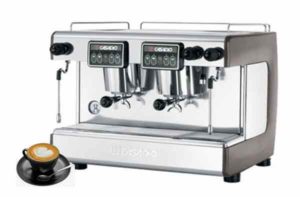 The Casadio Dieci A2 has two group heads and a 2.75 gallon boiler, and it's made of durable stainless steel and aluminum. It has a button control pad and is fully automatic and programmable. The top is completely flat, so it's a good place to preheat cups before filling them up. The machine weighs about 125 pounds and is one of the lightest commercial espresso makers. The product comes with two steam wands.
The Dieci A2 is an excellent basic espresso machine, but it doesn't have all of the features that other products on this list have. Its heating element is 3,400 to 4,500 watts, which is enough power for a moderately busy coffee shop. It isn't as powerful as some of the other options, though, so if you anticipate needing a high volume of espresso in a short time, the Dieci A2 might not be the best option.
Casadio is a brand known for its durability and reliability, which are two important qualities when you're looking for a mid-range, budget espresso machine. While not cheaply made by any means, the Dieci A2 is more modest than some products. It has all of the important features you need, though, without unnecessary bells and whistles. This espresso maker is recommended for those who are looking for an entry level product that can still produce fairly high volumes of espresso.
Pros
Good budget option
Programmable dosing
Made of stainless steel and aluminum; durable
Cons
Not as many features as other products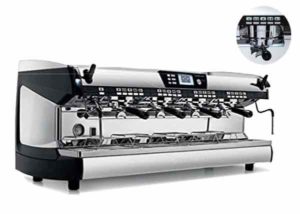 The Aurelia is one of the top names in the world of espresso, and the Aurelia II has a few added features. It has been named multiple times as the official espresso machine at the World Barista Championships, and it has excellent reviews from experts in the business. The four group head model weighs about 280 pounds and has a 6,000 watt heating element. It heats up quickly and recovers quickly, so it can handle a high volume of drinks every hour. Several reviewers have praised the Aurelia II for how simple and easy-to-use it is. Even though it's a high-quality machine with several advanced features, it's still user-friendly.
The boiler can hold 22 liters or just under 3 gallons of water, so it won't need to be refilled frequently. It has a heat exchanger, which allows you to steam and brew at consistent temperatures. Like the Appia II, it also has a soft infusion system to make soft and creamy espresso. With the reverse mirror, you can watch the shot pour out without having to lean over to see it.
The Aurelia II has very specific needs for water quality. According to the manufacturer, water with a mineral content greater than 50 ppm could damage the boiler or other parts of the machine. Mineralized water can affect the taste of the espresso, too. If you have mineralized water in your establishment, you'll have to buy a filter or demineralizer. Unfortunately, the price of this product might also be off-putting for many people. Unless you have an extremely busy shop that really needs four group heads, it might not be worth the price. The Appia II and the Aurelia model with two group heads are better budget options with similar features.
However, if you need a heavy-duty, high-volume espresso machine, the Aurelia II is one of the top products on the market. It's highly recommended for busy restaurants or coffee shops that need consistent, quality espresso.
Pros
User-friendly and easy to operate
Soft infusion system
Reverse mirror to easily watch the shot
Cons
Not the most budget-friendly option
Need to buy water filter or demineralizer
Best Commercial Espresso Machine – Buyer's Guide
A large, commercial espresso machine is a major purchase, and it's hopefully a purchase you'll only need to make once in a long time. You should think carefully about what you need before making a final decision.
Manual, Semi-Automatic, and Automatic
There are a few types of espresso machines that vary based on how the espresso is dispensed. A manual machine uses a hand-operated lever to pump out the espresso. In most areas today, these are no longer very common. Most people prefer machines with more advanced technology that are more convenient to use.
With a semi-automatic machine, the operator manually starts and stops the espresso pouring with an electric pump or button. This technology is usually only seen on smaller machines with only one group head. When the machine has multiple group heads, starting and stopping each pump manually will be too much to handle at once. Also, when you have to manually control the pouring, the portions won't be exactly the same each time.
Automatic espresso machines are the most common in commercial locations today. With this technology, you can pre-program portions, and the machine will automatically stop once it has dispensed the right amount. Most machines can be programmed with multiple settings for different drinks or orders. This is the best way to be consistent with your drinks.
Group Heads
You'll have to choose how many group heads you want based on how much you plan to use the espresso machine. A group head is a metal attachment on the front of the machine that brings water into the filter basket. With multiple group heads, your machine can pour multiple drinks at once. One group head typically can make up to 70 drinks per hour.
Two group heads is the most popular option for standard commercial locations. Busier coffee shops may need three or four group heads to make higher quantities. Machines with three or four group heads also provide more space for two operators to work at once. This isn't necessary for most coffee shops, though.
You should also consider the height of the group heads. The manufacturer or seller should tell you how tall the group heads are, so you can make sure your cups will fit underneath. This is especially important if you sell larger drinks. What use is a state-of-the-art espresso machine if you can't get the espresso into your cups?
Boilers
Most boilers are made of copper and are heated with a electrically-powered coil. The size of the boiler will help determine how many drinks you can make per hour. For two group machines, boiler size usually ranges from 5 to 14 liters or 1 to 4 gallons. Three or four group machines can have a boiler size up to 22 liters or 6 gallons.
Smaller boilers may run out of water during a morning coffee rush. Do you make a lot of doubles or offer large drink sizes? How many drinks per hour do you typically make? Smaller boilers are cheaper and lighter, but if yours is too small to handle the quantity you need, it can be a big inconvenience.
Other Features
There are a few other important features to consider, too. Before buying an espresso machine, you should find out its electric draw. This affects how quickly the boiler heats up and how quickly it can recover after being used. Bigger machines usually draw more power and have faster recoveries. Two group machines typically have heating elements between 4,000 and 6,000 watts. Like with the boiler size, you need to think about how much use the machine will get per hour.
Most commercial espresso makers come with at least two steam wands. These wands make steamed or frothed milk for drinks made from an espresso base. They connect to the boiler with a flexible pipe.
Mineral buildup from hard water can cause damage the boiler, heating elements, and water passages. Mineralized water affects the taste of the coffee, too. Some products come with a filter or demineralizer. If not, you should purchase one, especially if you know that your establishment uses hard water.
Best Commercial Espresso Machine
Just like there are a wide variety of coffee shops, there are a wide variety of espresso machines available. The best product for you depends on how much traffic your shop gets, how many people work in your kitchen, and what features are most important to you. Every espresso machine on this list is great for different purposes, but you'll have to weigh the pros and cons of each to make the best choice.