In the world of bearded people, it is very difficult to navigate a quality product. Men who constantly look after their beard and mustache are rather fashionable and presentable. Unfortunately, an improperly selected conditioner for a beard can harm not only appearance but also health. So, we conducted research and selected the best conditioners for the beard and mustache.
Best Beard Conditioner Reviews of 2023
Here are the best beard conditioner and best growth products you can buy on the market:
| Product | Contents, fl oz | Ingredients | Scents | Best For |
| --- | --- | --- | --- | --- |
| | 17 | Argan & Jojoba oil, all natural, plant-based | Sandalwood | All hair & beard types |
| | 02 | Virgin Argan, Avocado, Almond, Virgin Pumpkin Seed, Apricot Kernel Oils | Cedarwood, Anise (licorice), Clove | Softens Coarse and Rogue Hairs |
| | 16 | Argan oil, aloe vera, coconut oil, keratin, botanical extracts, and vitamins | Natural fragrance (vanilla/honey) | All hair & beard types |
| | 4 | Mango Butter, Coconut Oil, Avocado Oil, Aloe Leaf, Betaine, Jojoba Esters, Argan Oil, Rosemary Leaf Extract | Mix Cedar, Spruce, Sandalwood with a hint of Lemon, Bergamot, Lavender, Saffron Spice | All hair & beard types |
| | 8 | Aloe Vera, Green Tea, Jojoba Oil, Avocado Oil | Verbena Lime, Sandalwood, Vanilla Rum | All hair & beard types; Can be used daily to soften and moisturize |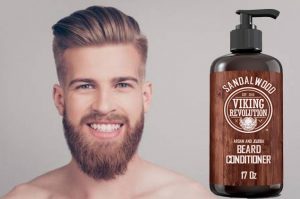 You are not supposed to use your hair shampoo on your beard. It will dry out your beard and make it itchy.
So you need a special means to give a beard wash a try. You can try only 5 ounces out Viking Revolutions Sandalwood Beard Wash and Conditioner to see if it works. This is a sandalwood smell and it's paraben-free sulfate-free. You get both bottles and they have the Argan and jojoba oils in them. There is a little QR type code that you can scan and it says you're supposed to get a free ebook and a how-to video.
The set has two bottles- the beard wash and the beard conditioner. Just wash beard and rinse it within a few seconds with the beard conditioner. You can leave it in for longer, but if you have damaged hair to leave it into 3-4 minutes.
It has a very masculine kind of woodsy smell. Sandalwood kind of woodsy scent, but very pleasant and it's not overpowering. So with this conditioner, you can get rid of the itchy and flaky skin in your beard.
Pros
The best ratio of price and quality
Bottle 17 ounces
No itching or irritation
Maney back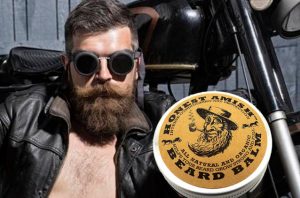 If you have shaggy curly beard or beard hair that won't hold in place, you must try to use Honest Amish Beard Balm. This is an intense conditioning balm with all-natural organics ingredients and natural smells.
Honest Amish is made in the US. They are based out of a small western Pennsylvania town. They have all organic ingredients, some of the oils are argh an avocado almond pumpkin seed and apricot kernel all those are oils. They also use fruit and nut butter, those are Shea aloe cocoa and kokum. They do use some nut butter. If you have a nut allergy, be careful.
Honest Amish Beard Balm has a consistency that is easy to apply. As soon as it hits a warm finger, it begins to melt immediately. It smells of anise (black licorice or black jelly beans) with cloves.
One of the few conditioners that work as a balm and styling, it models and moisturizes the mustache and beard.
Pros
Softens Coarse Hairs
Made in the USA
Stops the Itch
Cons
Only 2 ounces
No dispenser
3. Artnaturals Argan – Best Shampoo and Conditioner Set for Beard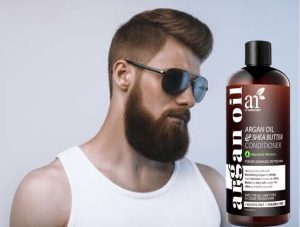 Artnaturals Argan is an argan oil shampoo which is a directive formula for all hair and beard types. So even you have a dry beard, you can use this product because the main ingredients are argan oil, almond oil, and Koopa vato.
These products are cruelty-free paraben free and sulfate free this. The product contains pure oil that enhances the health and appearance of your beard, including length and density, strengthens the hair, preventing breakage and thinning nourishes moisturizes, repair and protect your skin.
The conditioner is also made from Argan oil, so the main ingredients are Aloe Vera, Rosemary, Argan oil. It is also free of parabens and sulfates.
Pros
Very fresh clean scent
Doesn't have any sulfates
Not heavy
Cons
Not for all type sensitive skin
Often comes with shampoo
4. Bossman Fortify – Best to Grow and Thicken Beard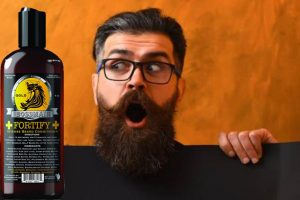 The different colors mean deferent scents. Gold is spruce lemon heavy. Magic is vanilla sandalwood heavy. Hammer is geranium vanilla and a hint of patchouli.
When we begin to apply to the beard, do not forget about the massage movement. It is, in principle, applied very easily.
We quickly spread it over the beard while it is slightly wet. We take a comb and with a small tooth we form the beard in the direction of hair growth or as you would like.
Very good conditioning effect. That is, the hair is immediately sent as it should. If there is some kinkiness, then it leaves slightly. Hair becomes more distributed among themselves and their direction is more pronounced. Sticking out hair is a little smoothed – that is, with a conditioning effect, this Beard Conditioner copes very well.
Pros
Not tested on animals
Five smells
Helps your beard grow faster
Cons
Not budget friendly
Only 4 ounces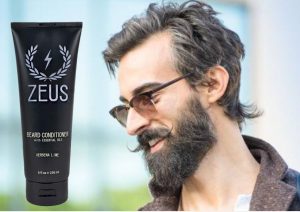 The product contains mild ingredients that won't strip the hair or skin of natural oils. Here it's paraben-free, sulfate-free, cruelty-free. This conditioner for moisturizing is not gonna foam it's just you know gonna condition the beard.
Zeus Beard Conditioner is specially formulated to put an end to beard-growing discomforts. It includes all-natural ingredients to soften beard hair, making it more manageable & preventing breakage. Extra moisturizing power nourishes skin beneath the beard to put an end to flaking.
Main smells: Verbena Lime, Sandalwood, Vanilla Rum.
Pros
For beard and mustache
Softens and Moisturizes
Reduce Itch
Cons
Lime-verbena scent overpowering
How to use a beard conditioner
Spread a small amount of conditioner in your palms.
Apply conditioner to the beard, moving first in the direction of hair growth, and then against growth. Leave on for 60 seconds.
Rinse off the conditioner, comb your beard, and be sure to admire the result – you are simply irresistible!
How often to use a beard conditioner?
Beard conditioner should be used every time after washing the beard with special shampoo – experts recommend washing the beard on average once a week. Sometimes you can use the air conditioner more than once a week.
In the summer, as a substitute for oil and balm
If you do not use beard oil or balm, the conditioner can partially replace them, making up for your beard and skin lack of nutrition. Use once daily after washing. The shampoo is not required.
With dry skin
If the skin requires additional hydration and nutrition, it will be grateful to you for additional comfort. Shampoo in this case also does not require daily use. Try adding beard conditioner to your daily winter care when men's skin is particularly prone to dryness and irritation: you will notice that the skin will become noticeably softer.
Best Beard Conditioner – Buyer's Guide
Directly on the characteristics and ratings of beard conditioners. Pay attention to dimension, dosage, transparency.
Bottle packaging
Opaque dark glass jars are good for storing oils directly. But the big plus of a transparent can is that you see how much you have left under the lid.
Dosage
As for the dosage – it would be nice to have a pipette of some other oil or pour out of habit in the palm of your hand. But if there is a drip dispenser or pipette, this is a plus.
Design
Design is the next option. Authenticity, good fonts, all sorts of candelabra, and not just a sticker, tells us that the manufacturer tried to make a cool design, then the product is most likely cool.
Product description
Look carefully at the manufacturer's name, on the ingredients indicated, on the naturalness, on the volume of the can, on the shelf life, on the date of the spill. Learn a little more about beard care.
Application to the beard
In principle, the beard conditioner does not require rinsing and is quickly absorbed. Within 5 minutes, there should be no problems with oily beard or skin.
Scent
There are critical and strong, mostly coniferous notes, there are barely noticeable. In this parameter, everyone has their own preference.
Care protective properties
We look at the conditioning effect. There should be a slight enveloping of the beard, preservation of elasticity, long effect, increased growth, the absence of any irritation on the skin. We consider what type of skin and beard is suitable. How often can I use it — every day or once a week.