If you are fanatically doing your health cardio workout, then you know everything about knee pain. Read along to learn more about the five best cardio machine for bad knees.
Above all, we have chosen the best exercise machines for bad knees that won't cause you bending pain, a feeling of cracking, and clicking in the knee.
In addition, you should consider that the symptom of "runner's knee" can also happen with weak hip muscles, with over intake of coffee, or wrong nutrition.
Here are the best cardio machines for bad knees you can buy in 2023: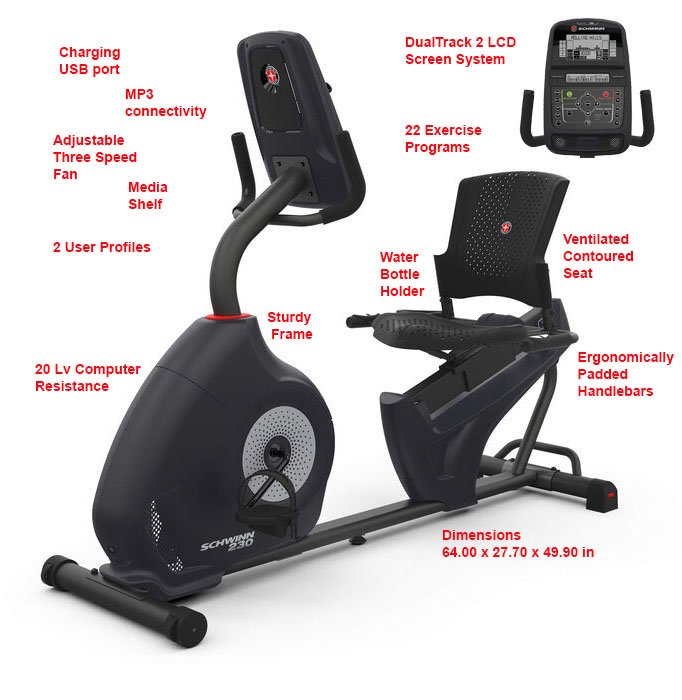 The Schwinn 230 is still a new model recumbent bike for a bad knee. It is equally good, as for a bodybuilder, so for a casual rider who spends about 30-45 minutes, 2-3 times a week.
Above all, this cardio machine has 20 levels of resistance. A plastic seat with holes for airflow and lumbar support specially designed for cool and comfortable workouts. Two saved profiles may be enough for your request.
Moreover, ergonomically positioned padded handlebars with integrated contact heart rate sensors – are a pleasant and necessary feature of this home cardio machine.
In addition, MP3 connectivity lets you listen to your favorite playlist through the built-in speakers. Two LCD monitors allow you to put your phone on top while you keep track of your workout on the bottom LCD.
Most importantly, all needed parts were mounted at the Schwinn factory, so you will spend no more than 1-2 hours on assembly. We recommend also to buy Mat for Recumbent Elliptical Rowing Cardio Machine .
In summary, this is an excellent exercise bike with all the bells and whistles. A great addition to your home gym.
Pros
Smooth ride on all resistances
Slider seat is easy to adjust
Sturdy frame
Low impact on your knees
Clear two LCD monitors
Easy Registering
Easy Assembly
Cons
2 Profiles
Plastic seat and back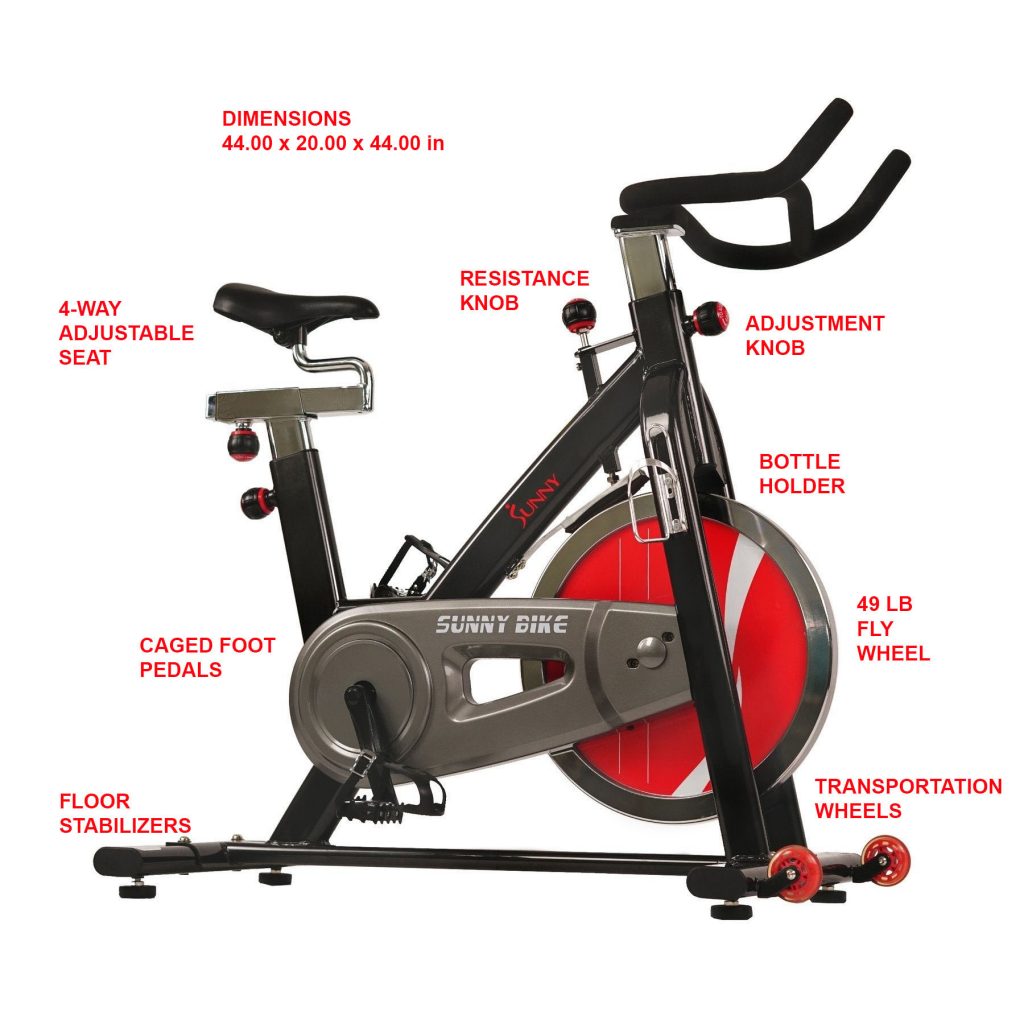 Firstly, this cardio exercise machine is quiet, sturdy, and doesn't swing while riding. The resistance is adequate, the 49 lbs flywheel runs smoothly. Secondly, the adjustability is great. In itself, the bike handlebar and seat height can be adjusted, so it is really suitable for everyone.
Thirdly, it's easy to assemble. You can cope with yourself for 40 mins from the open box. Moreover, SF-B1002 is decked out with transportation wheels, caged foot pedals, floor stabilizers, 4-way adjustable seat, resistance knob, water bottle holder, and emergency brake lever.
To sum up, Sunny Health & Fitness Magnetic Belt SF-B1002 is the best ratio of price and quality. All the parts work well. So, it has almost everything you need.
Pros
Easy to assemble
Solid frame
Quite ride
Fast-acting brakes
Customizable seat
Cons
Not for tall people
Small backlash in the handlebars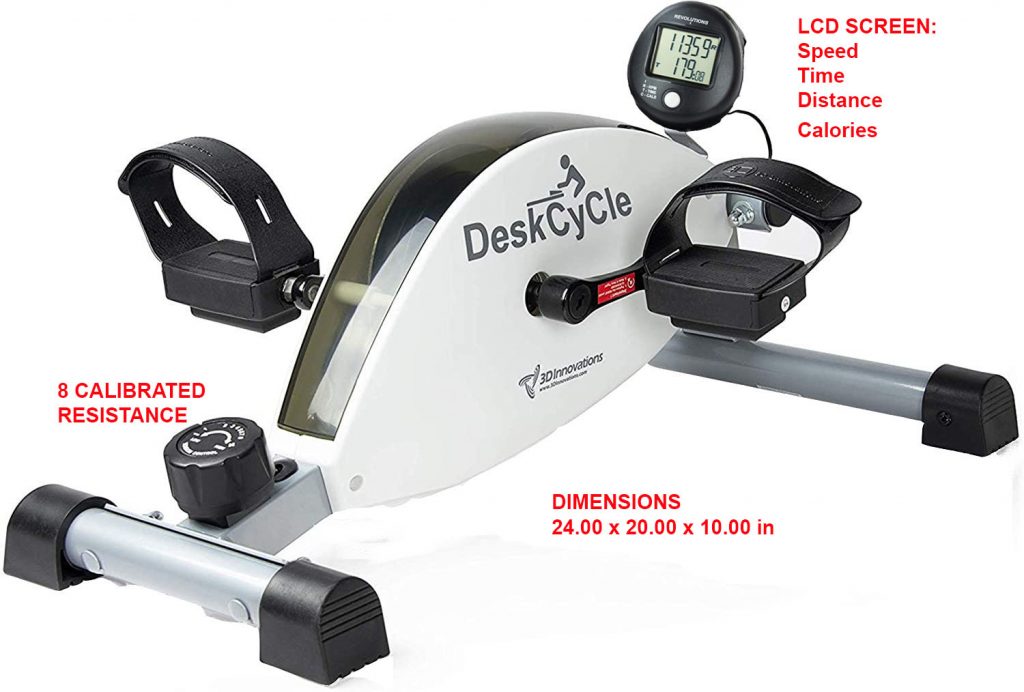 On DeskCycle Pedal Exerciser you can do exercises for both arms and legs. The dimensions of this compact model are 24 x 20 x 10 inches, so you can use it under the table. Great for damaged knees and joints.
Above all, DeskCycle Under Desk Bike is used for rehabilitation, physiotherapy, which supports and restores motor function and relieves pain. As a result, this type of workout was accepted as the best exercise machine for seniors.
Based on your needs, you can adjust resistance using 8 adjustable levels of magnetic tension. Weighing just 23 pounds and thanks to 4 anti-slip rubber pads, it stably stays in place.
Meanwhile, quiet pedal motion produces sound below 20 DB аnd does not interfere with others. Quick and easy assembly within 10 minutes.
To be motivated, on DeskCycle Pedal Exerciser is an LSD display that shows the time, speed, distance, and a number of calories burned.
In conclusion, this exercise machine is the best space saving bike for injures knees and one of the most comfortable under desk bikes.
Pros
Easy to assemble
Under desk
Easy to carry
For seniors
Cons
Better to use without sneakers
Dim display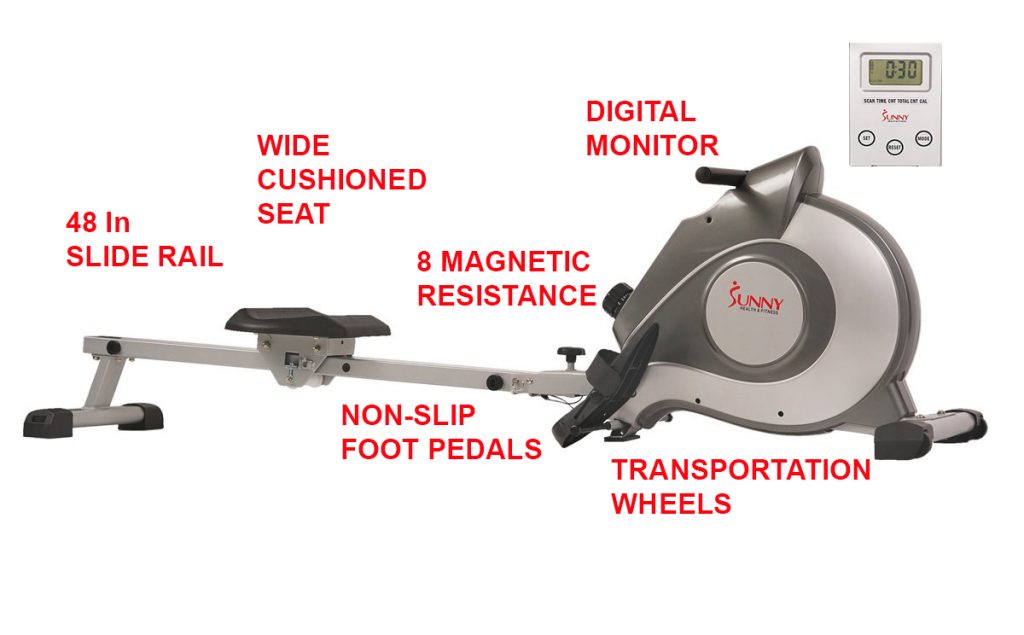 First of all, SF-RW5515 has a magnetic tension system with 8 levels of adjustable tension. So it provides a different impact on aerobic and cardiovascular exercise.
In addition, large LCD console displays time, calories, and total count. This cardio machine is designed to train all major muscle groups and weight loss without harming the knees.
Moreover, the instruction assembly manual is step by step and easy to understand. It is recommended to adjust your position from time to time to avoid knee discomfort.
To sum up, Magnetic Rowing Machine For Bad Knees is a safe, simple, and inexpensive way to get a decent CV workout and to improve overall strength and flexibility.
Most importantly – stretching before and after is recommended. It is better to use a special Mat for Recumbent Elliptical Rowing Cardio Machine in order not to scratch the floors.
Pros
Quiet
Can fold
Serious workout
Cost
5. Schwinn Compact 470 – Best Elliptical Machine For Bad Knees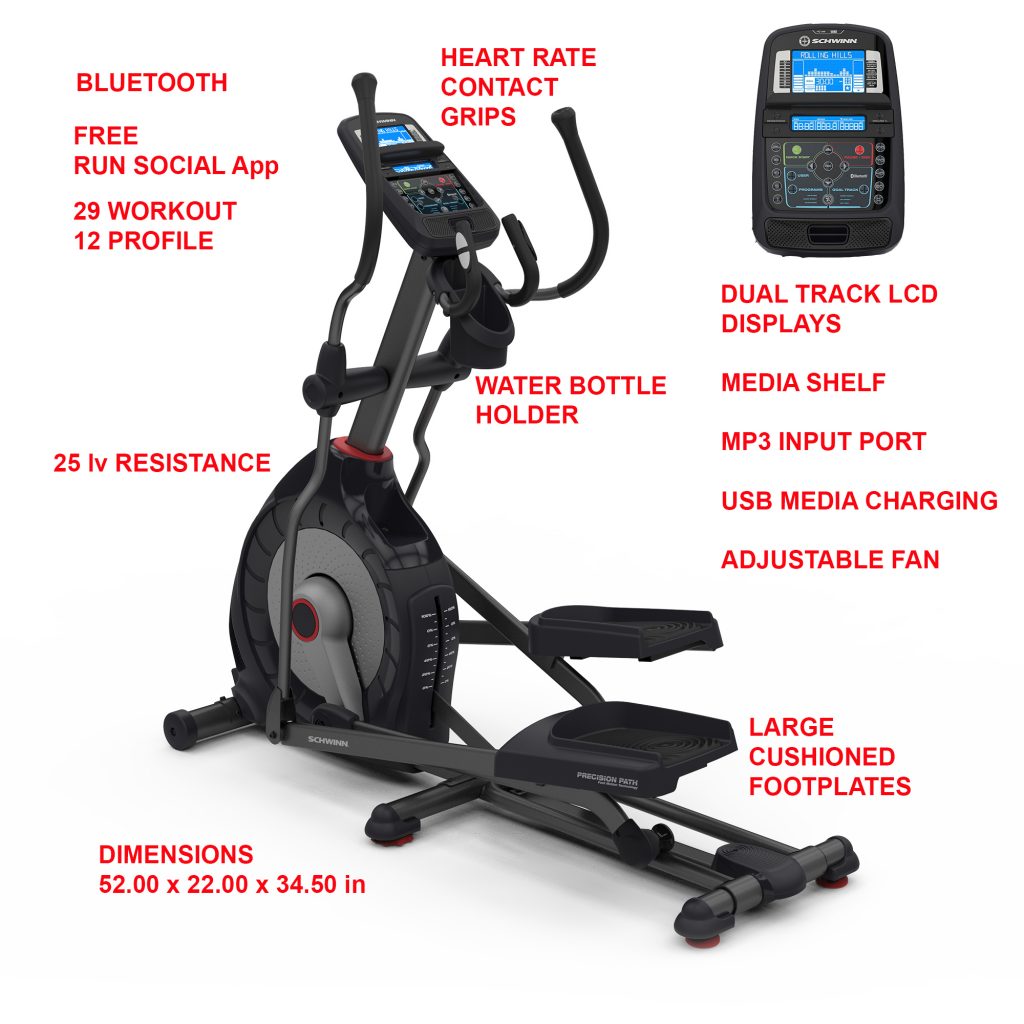 Primarily, Schwinn 470 is an easily assembled out of the box. You do not need to use any of your own tools, everything is provided.
In addition, the clear-to-download Schwinn application through BlueTooth synchronizes statistical exercises on your phone and you can follow your progress.
Further, with an adjustable three-speed fan to keep you cool, cup holder, phone holder, and a USB port, Schwinn 470 provides exercise comfort. Even presented an audio/headphone type jack (with cable) for MP3 audio to its speakers.
Besides, the Schwinn Elliptical Machine works smoothly and silently. It really affects the whole body without putting any stress at all on your joints.
A manually adjustable ramp provides 6 different incline options for challenging workouts. Large cushioned footplates contribute to comfortable, low-impact workouts.
Moreover, ergonomically placed moving handlebars provide flexibility for hand placement. Heart rate contact grips are conveniently integrated into fixed handlebars.
Make sure you apply high-quality synthetic grease when assembling, and it will work for a long time.
To sum up, Schwinn 470 is good for your knees, because a shorter stride also means less bending in the knees, less upward motion. That is to say, it's the best exercise elliptical machines for home.
Pros
Frame warranty 10 years
Quiet
App
Easy to Use
Cons
Not for tall people
Non-lit display
How to avoid knee injuries during training
1. Warm-up before exercise
Not warmed up muscles and not stretched enough ligaments will immediately make themselves felt. There is a high probability of injury to the knees and tendons.
2. The right approach to training
You need to consider your age, gender, general physical condition. It is better to take a trainer 5-10 times, who will pick up exercises and reduce the cardiac load on knees when using cardio machines.
3. Good lighting
When you run and walk along the street at dusk, you may not notice irregularities. Lighting should also be good for a cardio workout at home on cardio machines in the evening. This is a general safety issue that will keep not only knees but also your eyes.
4. Right sneakers
Buy only special running shoes. It is important that they are half the size larger. Under loads, the feet swell slightly and blood rushes to them so they become sensitive.
5. Self-confidence
Do not overvalue your own force and overuse the cardio machine. It guarantees muscle spasm and knee injuries.
6. Doctors and tests
Vegetative dystonia and cramping are due to weak vessels. Keep in mind that excessive cardio can lead to thrombosis. So, it is important to consult a doctor, take tests, and track your health.
7. Return to training after injury
An early return to training after a knee or tendon injury will aggravate the situation and delay exercise not for a month, but maybe for years.
Cardio Machines For Bad Knees Buying Guide
Most cardio machines cost several hundred dollars, so you should think hard before making a purchase. There are several types of cardio machines for bad knees, and there are important features to look for within each type. So you should make your choice based on:
where to set it
what level of load do you need
what should the display show
how quietly should exercise machine work
how much weight can it support, etc.
Which cardio machine for bad knees is better to buy?
To sum up, there are three main types of cardio machines for bad knees:
Recumbent exercise bike
To clarify, if the knee is injured, mobility is limited for a long time. Above all, after the inflammation subsides and the damage is repaired, it will still be weakened.
So workouts with gradually increasing intensity on a recumbent bike are able to return the joint to a normal state.
Most often, doctors recommend a recumbent exercise bike for the rehabilitation of the knee joint or the hip of the musculoskeletal system.
In short, the main load from the knee joints take back and leg muscles. But if you have a problem with the radius of flexion of the knee, then it is better to choose a cycling bike.
Cycling bike
Firstly, the cycling bike provides the body with a vertical position. This is the classic position of the cyclist. The body is inclined forward so it's mainly supported by the seat and the steering wheel. In other words, it looks like riding a street bike. In this position, many people with knee injuries find lighter work of the joints.
Secondly, such a workout has a small radius of extension of the knee mechanism and facilitates the flexion-extension movement of the knee joint.
To sum up, cycling bike is able to carefully and effectively tone up weakened muscles and restore mobility to musculoskeletal structures.
Rowing machine
A rowing machine uses the knee joints in a gentle mode and actively includes the upper and lower body. Such a fact can't be applied to a running machine, an ellipsoid, a stepper, and an exercise bike.
Similarly, the rowing machine is one of the safest cardio machines for physical restorative after diseases and injuries of the knee joints.
In addition, the rowing cardio machine improves blood circulation and enhances the functioning of the heart muscle.
In conclusion, high-calorie consumption and a reduced load on the knees make this exercise machine the best option for people who want to lose weight at home and save their knees.
Elliptical machine
Due to its high efficiency, high-quality work of all muscle groups, and sparing effects on the joints, the elliptical machine has become one of the most popular home exercise machines.
Training on the elliptical machine looks like running or skiing, but the workout on it is safe for the joints and spine.
To clarify, the foot does not come off the pedal surface at all stages of movement, which helps to avoid shock loading. Most importantly that the pedals move along the trajectory of the elliptical machine, while the legs are in a slightly bent state.
As a result, it makes the training comfortable and safe for the knee and ankle joints. Exercises on this cardio machine will bring you a minimum of harm and maximum benefit.
Tips for choosing the right exercise equipment for home
Price
Dimensions when assembled
Quality of construction
Mobility
Easy assembly
Warranty period
Maximum user weight
Adjustment and comfort of the seat, steering wheel, pedals, etc.
Programs
Displayed data
Heart rate sensor
Accessories
User reviews
Additional costs – for example, a rug for a simulator, keys for assembly
Training objectives
Conclusion – Our Top Pick
Exercises on a stationary bike, elliptical exercise machine, and rowing machine help not only in the fight against overweight, strengthen the cardiovascular system, and improve the functioning of the respiratory system but also save your knees and joints.
When choosing a cardio exercise machine from our list, pay attention to the doctor's recommendations, and to your own feelings of the workout on the knee joint.
Professional fitness equipment and home fitness equipment are very different in price, but the specifications may be similar. So, carefully consider the choice, taking into account your wishes and possibilities.
Just take a look at our best choice, the rugged and reliable Schwinn 230 Recumbent Bike . It has the best features on the market, as well as the unbeaten quality presented in reviews.